HD4 Home Music System (Open Box)
Effortlessly fill any living space with the power of incredible, true stereo sound that brings your listening experience to life. An all-access pass to ALL of your music on any app or device, the HD4 offers wired or wireless connections including USB input from your computer, Bluetooth aptX-HD from your phone, or good old analog from that vintage turntable or prized tape deck.
Extended-Range Wireless aptX-HD Bluetooth
The Perfect Harmony of Modern Design and Dynamic Sound
Designed for smaller spaces, the Audioengine HD4 provides rich and vibrant audio reproduction that smaller systems often lack. The HD4 combines the power of the larger HD6 with the convenience of the smaller HD3. The system is housed in hand-built, real-wood-veneer cabinets for a modern and stylish look. You could call the HD4 eye and ear candy.
Everything You Want in a Music System, Without the Cords
The HD4 gives you the choice of connecting via USB, analog, or Bluetooth aptX-HD from your phone, tablet or computer. Bluetooth aptX-HD gives you CD-like quality sound and extended-range wireless that connects quickly and easily. Enjoy all of your music services, tune into your favorite podcast, or listen to anything and everything from your personal music library.
Spoiler Alert: You're Going to Love Them
Quick and easy setup
No network setup, no passwords, no hassle
Versatile playback in any room, from any app or device
High-fidelity stereo sound for desktops and small spaces
Modern, compact design that fits in and fills up any room with sound
Built-in magnetic (and easy to remove) speaker grills
Low-latency Bluetooth aptX-HD, extended-range wireless streaming so you get crystal clear sound
Analog input for easy turntable connection
Aramid fiber woofers and silk dome tweeters maintain the integrity of the sound
Built-in power amps wrapped in precision tuned, hand-built and finished wood-veneer cabinets
The HD4 Leaves You Plenty of Room to Groove
Good news! You don't have to sacrifice sound quality when you've got limited space. Designed to take on space limitations, the HD4 is the perfect choice when your surface area is minimal and exceptional performance is a priority. As stylish as they are compact, the HD4 will easily fit in any small space and fit in with any style of decor.
But the HD4 is more than just a pretty face. This system provides brilliant highs and thumping lows. It's the difference between listening to your music and experiencing it.
HD4 left speaker - front view
HD4 left speaker - rear panel
Bluetooth pairing indicator
Stereo RCA inputs & outputs
Out to right (passive) speaker
Tech Specs
Powered Bluetooth aptX HD speaker system
120 W peak power total (30 W RMS / 60 W peak per channel), AES
4"" aramid fiber woofers 0.75"" silk dome tweeters
What's in the box
HD4 Home Music System (Open Box) powered (left) speaker
HD4 Home Music System (Open Box) passive (right) speaker
Why Choose Audioengine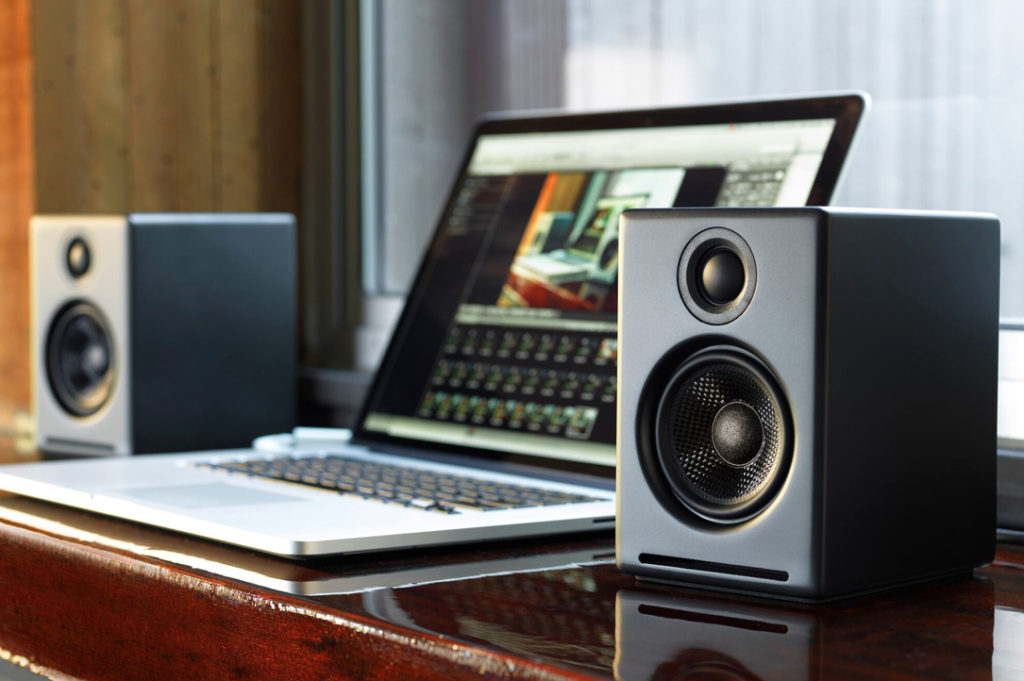 INCREDIBLE
SOUND
Your music the way it
was meant to be heard
LISTEN
YOUR WAY
Stream all your music
from any app or device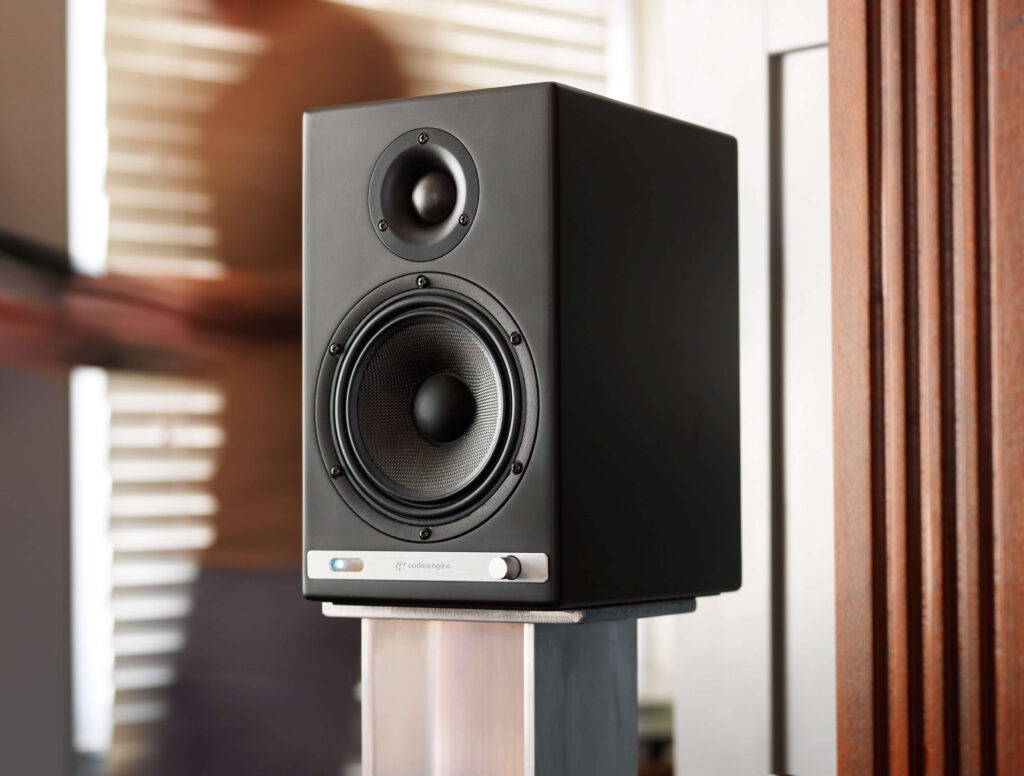 BOLD
DESIGN
Premium handcrafted
elegance for your home
Questions & answers about the
HD4 Home Music System (Open Box)
HD4 is an all-in-one system with no extra components needed except your phone or computer. Simply place the speakers where you want them and connect the power supply. Hook up the included speaker wire from the powered left speaker to the right passive speaker. Then connect your music with the supplied cables - or go wireless - and that's it.
The HD4 speakers do include detachable magnetic grills. The grills have thin rubber pads to prevent marks or damage to the finish or the cabinet, so your HD4s will keep looking great even if you like to remove / replace them frequently!
Absolutely! The HD4 offers wired or wireless connections to any phone or tablet using the aux audio input or Bluetooth aptX-HD. For wired connections to newer devices without a headphone jack, you'll need the correct USB-A adapter cable to connect from your tablet to the USB input on the HD4. These are generally available from the manufacturer of your tablet/smartphone, local electronic stores, or even online retailers.
Yes, you can. The HD4 speakers use a switching power supply so it will automatically convert to the different voltage. The power cable is also detachable which makes it convenient to replace the AC plug with a different type if you don't want to use an adapter plug.
Sure, for HD4 you will need an inverter that can supply about 50-60 watts.
While the HD4 has a fantastic 24-bit DAC, you can always run your own external DAC to the speakers by connecting to the analog inputs.
Some turntables will need a preamp before being connected and others may have one built-in. Check the turntable manufacturer's website or user manual.
Yes! All Audioengine powered speakers have multiple audio inputs. Both analog inputs (3.5mm and RCA) are active, so you can connect multiple audio sources at the same time.
The digital inputs are slightly different, though. Both the Bluetooth and USB inputs share an internal DAC. In this case, the Bluetooth input will take precedence over the USB connection. This means that the Bluetooth input will mute the USB input's audio playback. Simply disconnect your Bluetooth device from the HD4 speakers to resume playback from your USB source device.
You should be able to use multiple sources with the HD4s just fine. The analog inputs on the HD4 are always active. They will play at the same time as the Bluetooth or USB input. Bluetooth and USB share the DAC though, so you can only listen to one at a time, and Bluetooth takes priority. If you're using USB for example, and start using Bluetooth, USB will mute and Bluetooth will take over. If you pause or disconnect from Bluetooth the speakers will automatically switch back to USB after a few seconds.
Compare Us to the Competition
Audioengine A2+ Plus Wireless Speaker Bluetooth | Desktop Monitor Speakers | Home Music System aptX Bluetooth, 60W Powered Bookshelf Stereo Speakers | AUX Audio, USB, RCA Inputs,16-bit DAC (Black)
CSR8670 Internal Bluetooth Receiver
CSR8670 Internal Bluetooth Receiver
CSR8670 Internal Bluetooth Receiver
Fearless
Shopping
10-second checkout with Amazon or Paypal


Fast & free shipping

We pay sales tax, if applicable

30-day audition & easy returns

3-year warranty & superior support

Guaranteed smiles

We've Got Sound Advice for Everyone on Your Gift List