Tech Specs
S8 Wireless Subwoofer
Enhance the rhythm and add groove to any audio system with the Audioengine S8 Wireless Subwoofer. The hand-tuned S8 comes in a sealed hand-crafted wood veneer enclosure with our Isolation Elastomer Feet, which reduces vibration and resonance so you'll experience cleaner, tighter bass. And it's wireless, so you can place wherever it sounds best.
Technical Specifications
General Specifications
Type
Powered Subwoofer w/ wireless audio receiver, rear ported design
Amplifier Type
Class D
Power Output
250 W peak power total (125 W RMS), AES
Drivers
8" long throw down-firing woofer
Inputs
3.5 mm stereo mini-jack, RCA L/R
Outputs
N/A
Input Voltages
100-240V AC, 50/60Hz auto-switching
SNR
>95 dB (typical A-weighted)
THD+N
<0.05% at all power settings
Crosstalk
N/A
Frequency Response
27Hz - 180Hz ±1.5 dB
Frequency Response w/ Bass Reduction Switch selected
N/A
Analog Input Impedence
N/A
Nominal Impedence
N/A
Input Impedence
10K ohms unbalanced
Crossover Frequency
50Hz - 130Hz
Protection
Output current limiting, thermal over-temperature, power on/off transient protection
Power Consumption
N/A
Standby Consumption
<1W
Phase
0 / 180 degrees
Recommended Amplifier Power
N/A
Battery Life
N/A
Battery Charge Time
N/A
Bluetooth Specifications
Internal D/A Converter
N/A
Internal BT Receiver
N/A
Input Bit Depth
N/A
Bluetooth Receiver Type
N/A
Supported Codecs
N/A
Supported Bluetooth Profiles
N/A
Wireless Operation Range
N/A
Input Data Rate
N/A
Wireless Latency
N/A
Usb Specifications
Connector Type
N/A
USB Device Class
N/A
Input Bit Depth
N/A
Input Sample Rate
N/A
Headphone Amp Specifications
Headphone Amp Type
N/A
Full-scale Headphone Output Level
N/A
Output Impedence
N/A
Recommended Headphone Impedence Level
N/A
Optical Specifications
Internal D/A converter
N/A
Input Bit Depth
N/A
Sample Rate
N/A
Weights And Measures
Dimensions (HWD)
11.25" (28.6 cm) x 11.25" (28.6 cm) x 11.25" (28.6 cm)
Weight
23.6 lb (10.7 kg)
Total Shipping Weight
30 lb (13.6 kg)
Shipping Box Dimensions (LWH)
16" (40.6 cm) x 16" (40.6 cm) x 18" (45.7 cm)
Environmental Requirements
Operating temperature: 32 degrees F to 95 degrees F
Non-operating temperature: -4 degrees F to 113 degrees F
Relative humidity: 5% to 95% non-condensing
Materials And Construction
15.6mm thick MDF cabinet
8" custom downfiring woofer
Custom Components
Audioengine designs and manufactures our own tweeters, woofers, and other critical components. In other words, these are not "box built" speakers with off-the-shelf parts but custom-designed to our specifications. What we do not fabricate directly in our factory we have made to our designs (parts such as transformers, magnets, and wiring harnesses, for example). The cabinets, drivers, bass port designs, amplifiers, and crossovers are all painstakingly tuned together for each Audioengine model. This, in turn, makes for a much more efficient system that requires much less power than passive speakers and a separate integrated amplifier or similar A/V components.
Quickstart Guide
S8 Wireless Quick Setup
The W3 Wireless Audio Adapter, which is part of the S8 Wireless Subwoofer system, will allow you to send music wirelessly from any music system with an audio output to the S8 Subwoofer.
Here are the two most common setups to make your S8 subwoofer wireless using the included Audioengine W3 wireless adapter kit.
Music System to S8 Sub using mini-jack audio output
1) Connect the W3 power supply to the W3 Sender and plug the W3 power supply into a functioning AC power outlet.
2)Connect a mini-jack audio cable from the W3 Wireless Sender to your music system audio out or subwoofer output.
Wireless receiver connection to S8 Sub using mini-jack audio input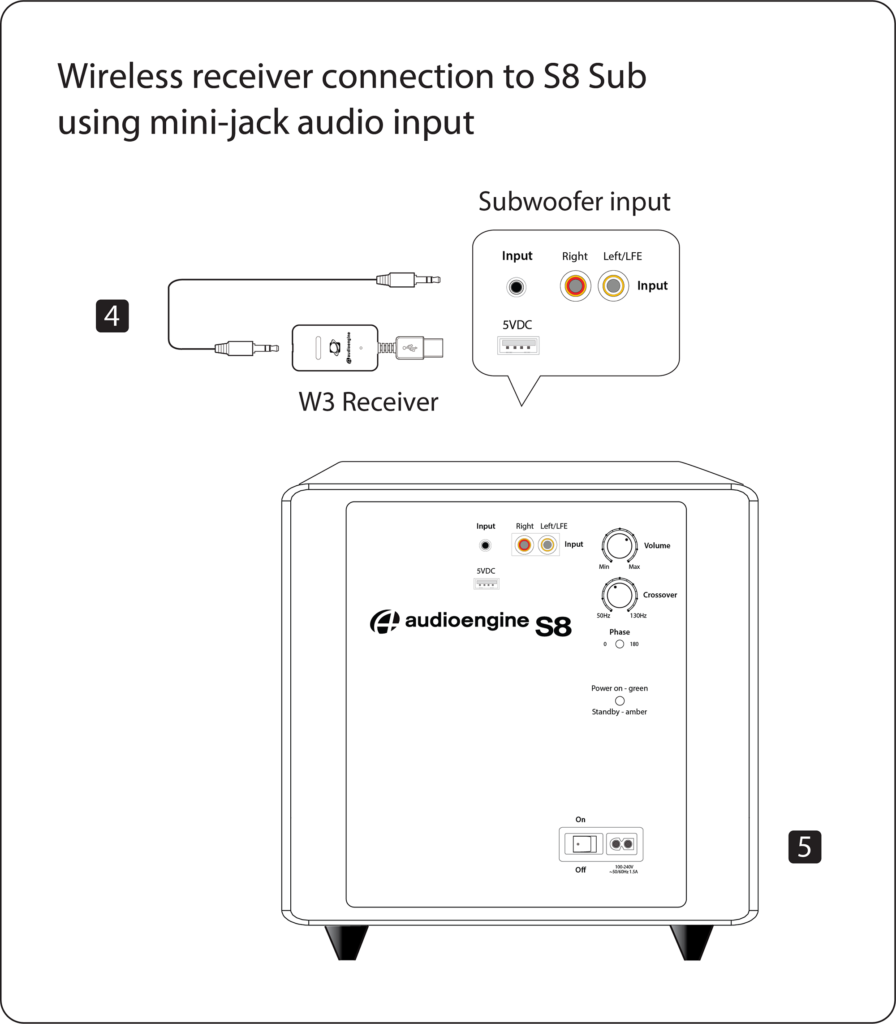 3) Connect the included mini-jack cable from the W3 Receiver to the audio input on the rear panel of the S8 subwoofer.
4) Power on the S8 subwoofer.
The status indicators on the W3 Sender and Receiver will both blink briefly and will then go solid, indicating they are paired and ready to play your music.
Powered Speakers or Stereo Receiver to S8 Sub using RCA audio outputs
1) Connect the W3 power supply to the W3 Sender and plug the W3 power supply into a functioning AC power outlet.
2) If your powered speakers or AV receiver has RCA-style audio outputs or sub outputs, connect the included RCA adapter "Y" cable to the W3 Sender.
3) Connect an RCA cable (included with your powered speakers or AV receiver) between the RCA "Y" adapter cable and your music source subwoofer out.
Wireless receiver connection to S8 Sub using mini-jack audio input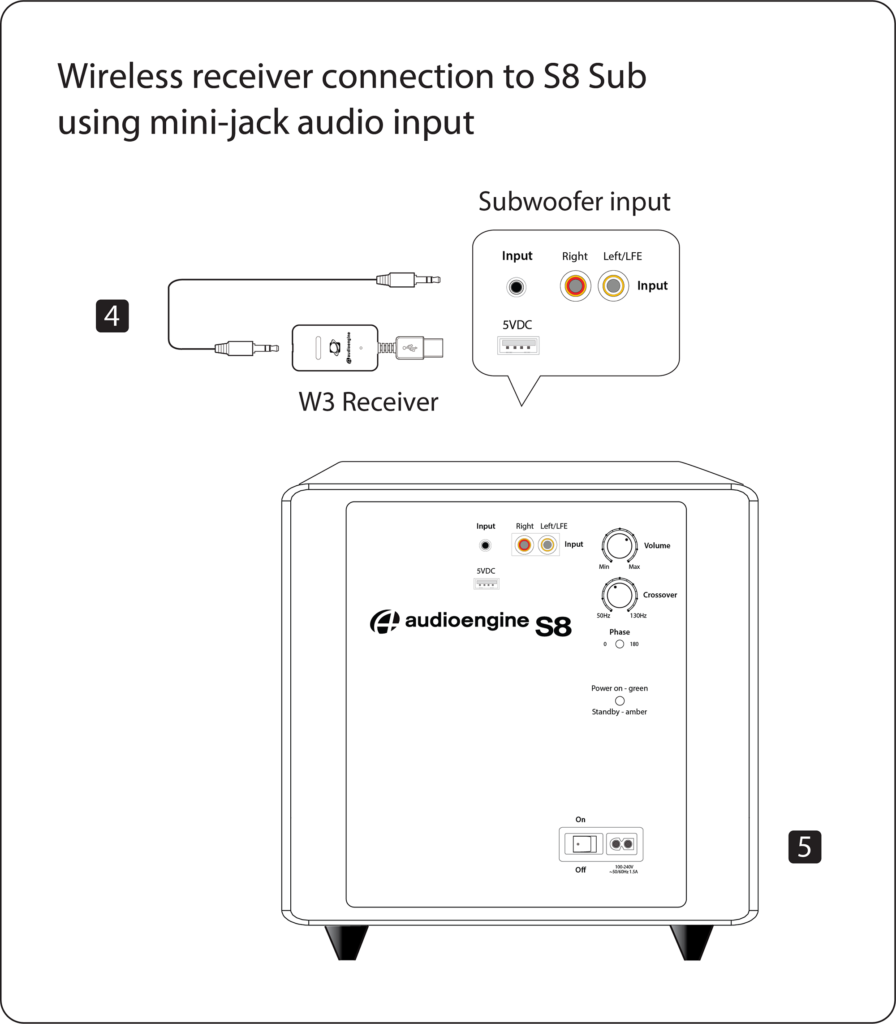 4) Connect the included mini-jack cable from the W3 Receiver to the audio input on the rear panel of the S8 subwoofer.
5) Power on the S8 subwoofer.
The status indicators on the W3 Sender and Receiver will both blink briefly and will then go solid, indicating they are paired and ready to play your music.
For instructions on setting up the S8 Subwoofer, refer to the S8 Quickstart Guide.
Troubleshooting
S8 Wireless Troubleshooting Tips
The following troubleshooting tips can help diagnose and correct most concerns with the S8 Wireless. We have attempted to make this list as comprehensive as possible, so some of these may not apply to your issue, but please go through each tip.
If the power indicator on the S8 rear panel is not illuminated, try these tips:
Verify that the AC power cord is connected to the S8 rear panel and to a working AC power outlet.
Check that the power switch on the S8 rear panel is in the ON position and the volume control is not turned all the way down.
If the S8 is powered on but you are experiencing an audio-related issue, try these tips:
Check that the cables from your music source to the S8 are properly connected by unplugging the cables and then reconnecting.  Try using the mini-jack (Input B) as well as the RCA connectors (Input A) to see how the sub reacts.
Check that the volume knob on the rear panel is not set to minimum volume.
Verify that the volume levels of your audio source components, computer, etc are not set to minimum volume or powered off.
If you are using any wireless adapters or other products with your sub, please remove the wireless device (temporarily) and connect the source directly to the sub.
The S8 Wireless uses a W3 for its wireless connection. The W3 is designed to "play nicely" with other wireless products but interference can happen, depending on the type of router(s) being used, other wireless systems in the area, your computer, building construction, etc.. If you are experiencing an issue with your wireless network or interference, here are some things that may help:
Please try changing the channel of your Wi-Fi router to 1 or 11. This can be done with an Apple router using Apples Airport Utility software.  On most other routers, these settings can be accessed by logging on to the routers IP address through a web browser.
Please try to keep as much room between the W3s sender and receiver units, and other wireless devices as possible.  At least 2 or 3 feet is recommended.
Please try  temporarily moving the powered W3 sender unit as close as possible to your wireless router.  Leave it there for just a few minutes, and then place it back into your setup and retest.  This may allow the W3 to train itself to "steer clear" of the signal.
We have found that every now and then the placement of the computer's antenna in relation to the USB port can have this effect on the W3.  One thing you could try is to move the W3 further from the computer by using a USB extension cable.  - If using a Mac laptop, try the USB port furthest away from the display (the display is where the wifi antenna is located).
Consider upgrading to a new wireless router if yours is older than 3 or 4 years.  Newer model routers handle interference much better than older routers.
FAQ's
No, there are no firmware updates or special drivers needed unless you own our A1-MR multi-room speakers or our B-Fi multi-room wireless streaming device.
If a firmware update is released for the A1-MR or the B-Fi, you will be notified of the update the next time you open the Audioengine Control App. If an update is needed, simply click "update" on the DEVICES page next to the product that needs to have the firmware update applied. The app will handle the rest of the process from there!
Standard plug-n-play drivers that are provided by your computer's OS are utilized when using the USB input on our A2+, HD3, and HD4 speaker models.
And all of our Bluetooth speakers/products are compatible with any device that supports Bluetooth, and the A2DP profile for streaming stereo audio. This includes most smartphones, tablets, and computers. For computers that don't include Bluetooth support out of the box, you can simply add a USB Bluetooth adapter.
Yes! All of our speakers and subwoofers are directly video shielded. They also allow the user to place the speakers or subwoofer within a few inches of a video monitor. In addition, this shielding offers protection for hard-drive digital music players.
M6 x 40mm, 6mm diameter pan head
Most Audioengine powered speakers have variable RCA outputs for use with a subwoofer like the S8. This means that the output of the speakers and the RCA output will go up and down together. So once you dial in the volume of your S8, you should be able to adjust the volume from the speakers, or your source device. Either way the subwoofer and speakers should stay in balance as the volume is raised and lowered.
Using the supplied W3 sender and receiver, follow the diagram below:
Yes they do! They are equipped with a power-saving circuit that turns off the speaker's final stage amp. This idle mode activates right after you stop playing music. Due to this power-saving function, it's perfectly fine for the speakers to stay on all the time!
Audioengine speakers can be easily connected to your TV set as long as there are analog outputs available. Any of our speakers will provide a greatly enhanced TV audio experience with a wider soundstage and better imaging than most sound bars.
Your A2+/A5+ have a variable RCA output located on the rear panel of the left speaker. This connection can be used to connect an S8 Powered Subwoofer (or any self-powered subwoofer) for extended bass response.
You can also add a W3 Wireless Adapter to make this connection wireless as shown below.
The B2 is designed as a standalone speaker, it has inputs for Bluetooth and 3.5 mm mini jack. It does not have an output, so unfortunately you cannot output from a B2 to a subwoofer.
The USB port can provide around 500mA, which is standard for high powered USB 2.0 devices; these are perfect for using a W3 or B1 for instance.
However, when trying to charge a iPad or iPhone for example, they require around 1000mA to charge with the screen on (the iPad's included USB charger actually provides around 2100mA to speed up charging with the screen on). If your device is at a higher battery level it should work fine to plug it in to the USB power port to maintain the battery while listening to music (with the screen on it will always show "not charging"). If the battery is low though, we'd recommend plugging it into the charger that came with it.