Tech Specs
S6 Powered Subwoofer
With 210 watts of power, the S6 is the ultimate bass support for your laptop, desktop, home theater or gaming setup. The S6 delivers deep, smooth, and punchy bass from a front-firing woofer in a sealed box that might just take you by surprise. Bottom line, prepare to have your mind blown.
Technical Specifications
General Specifications
Type
Powered Subwoofer, sealed enclosure
Amplifier Type
Class D
Power Output
210 W peak power total (140 W RMS), AES
Drivers
6" long throw front-firing woofer
Inputs
3.5 mm stereo mini-jack, RCA L/R
Outputs
N/A
Input Voltages
100-240 V AC, 50/60 Hz auto-switching
SNR
>100 dB (typical A-weighted)
THD+N
<0.2% at all power settings
Crosstalk
N/A
Frequency Response
33Hz - 132Hz ±1.5dB
Frequency Response w/ Bass Reduction Switch selected
N/A
Analog Input Impedence
N/A
Nominal Impedence
N/A
Input Impedence
10K ohms unbalanced
Crossover Frequency
40Hz - 130Hz
Protection
Output current limiting, thermal over-temperature, power on/off transient protection
Power Consumption
N/A
Standby Consumption
<1W
Phase
0 / 180 degrees
Recommended Amplifier Power
N/A
Battery Life
N/A
Battery Charge Time
N/A
Bluetooth Specifications
Internal D/A Converter
N/A
Internal BT Receiver
N/A
Input Bit Depth
N/A
Bluetooth Receiver Type
N/A
Supported Codecs
N/A
Supported Bluetooth Profiles
N/A
Wireless Operation Range
N/A
Input Data Rate
N/A
Wireless Latency
N/A
Usb Specifications
Connector Type
N/A
USB Device Class
N/A
Input Bit Depth
N/A
Input Sample Rate
N/A
Headphone Amp Specifications
Headphone Amp Type
N/A
Full-scale Headphone Output Level
N/A
Output Impedence
N/A
Recommended Headphone Impedence Level
N/A
Optical Specifications
Internal D/A converter
N/A
Input Bit Depth
N/A
Sample Rate
N/A
Weights And Measures
Dimensions (HWD)
10" (25.2 cm) x 8.7" (22.2 cm) x 10" (25.3 cm)
Weight
15.4 lb (6.98 kg)
Total Shipping Weight
18.2 lb (8.26 kg)
Shipping Box Dimensions (LWH)
13" (33 cm) x 13" (33 cm) x 14" (35.6 cm)
Environmental Requirements
Operating temperature: 32 degrees F to 95 degrees F
Non-operating temperature: -4 degrees F to 113 degrees F
Relative humidity: 5% to 95% non-condensing
Materials And Construction
15mm thick MDF cabinet, 6" custom front-firing woofer
Custom Components
Audioengine designs and manufactures our own tweeters, woofers, and other critical components. In other words, these are not "box built" speakers with off-the-shelf parts but custom-designed to our specifications. What we do not fabricate directly in our factory we have made to our designs (parts such as transformers, magnets, and wiring harnesses, for example). The cabinets, drivers, bass port designs, amplifiers, and crossovers are all painstakingly tuned together for each Audioengine model. This, in turn, makes for a much more efficient system that requires much less power than passive speakers and a separate integrated amplifier or similar A/V components.
Troubleshooting
S6 Troubleshooting Tips
S6 Troubleshooting Tips
The following troubleshooting tips can help diagnose and correct most concerns with the S6. We have attempted to make this list as comprehensive as possible, so some of these may not apply to your issue, but please go through each tip.
For trouble getting the S6 to "wake up" from standby mode, try turning the volume up on your source or speakers until you hear the S6 kick in. There is a minimum volume threshold to meet before the S6 will play.
If the power indicator on the S6 rear panel is not illuminated, try these tips:
Verify that the AC power cord is connected to the S6 rear panel and to a working AC power outlet.

Check that the power switch on the S6 rear panel is in the ON position and the volume control is not turned all the way down.

Confirm that the rear panel voltage selector matches the operating voltage in your country or region.

If the power indicator on the rear panel still does not illuminate, check the fuse in the rear panel.  If the fuse is blown and needs to be replaced it is important to replace it with the same fuse type and value.
If the S6 is powered on but you are experiencing an audio-related issue, try these tips:
Check that the cables from your music source to the S6 are properly connected by unplugging the cables and then reconnecting.  Try using the mini-jack (Input B) as well as the RCA connectors (Input A) to see how the sub reacts.

Check that the volume knob on the rear panel is not set to minimum volume.

Verify that the volume levels of your audio source components, computer, etc are not set to minimum volume or powered off.

If you are using any wireless adapters or other products with your sub, please remove the wireless device (temporarily) and connect the source directly to the sub.
FAQ's
You can do this using powered speakers like our A2+s, HD3s, HD4s, A5+s, and HD6s. For this, you'll connect the W3 sender to the RCA output on the left speaker, using a 3.5mm stereo-mini to RCA "Y" cable. Then connect the W3 Receiver to the input on your S8. You can either use a 3.5mm stereo-mini to stereo-mini cable for this, or another 3.5mm stereo-mini to RCA "Y" cable; either will work fine. Both W3 units will need to be powered from a USB port. You can use USB AC power adapters, or if the powered speaker you're using is our A5+ Classic model, you can use the USB port on it's rear panel for the W3 sender. The same would apply to the S8 subwoofer if you have our current 'Gen II' model that has a USB port on the rear panel.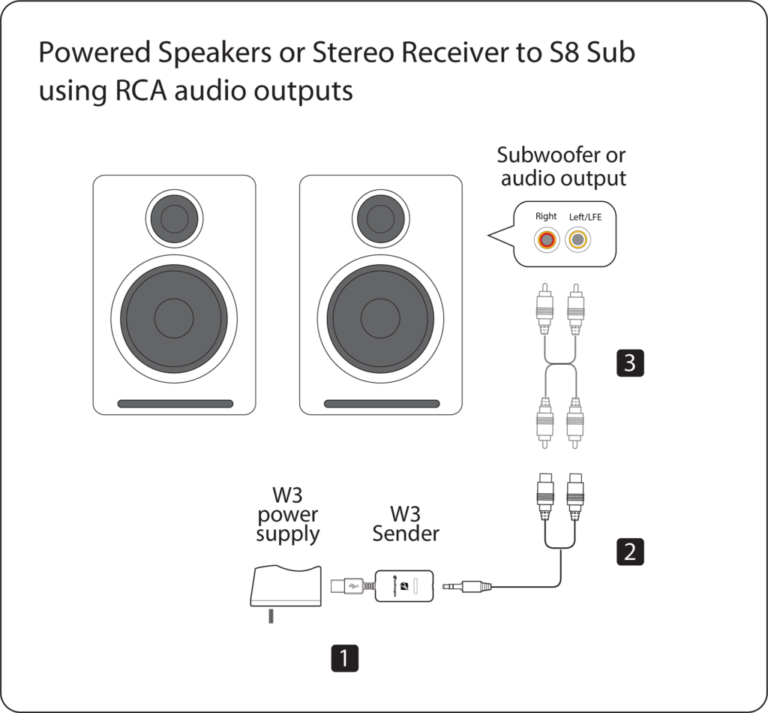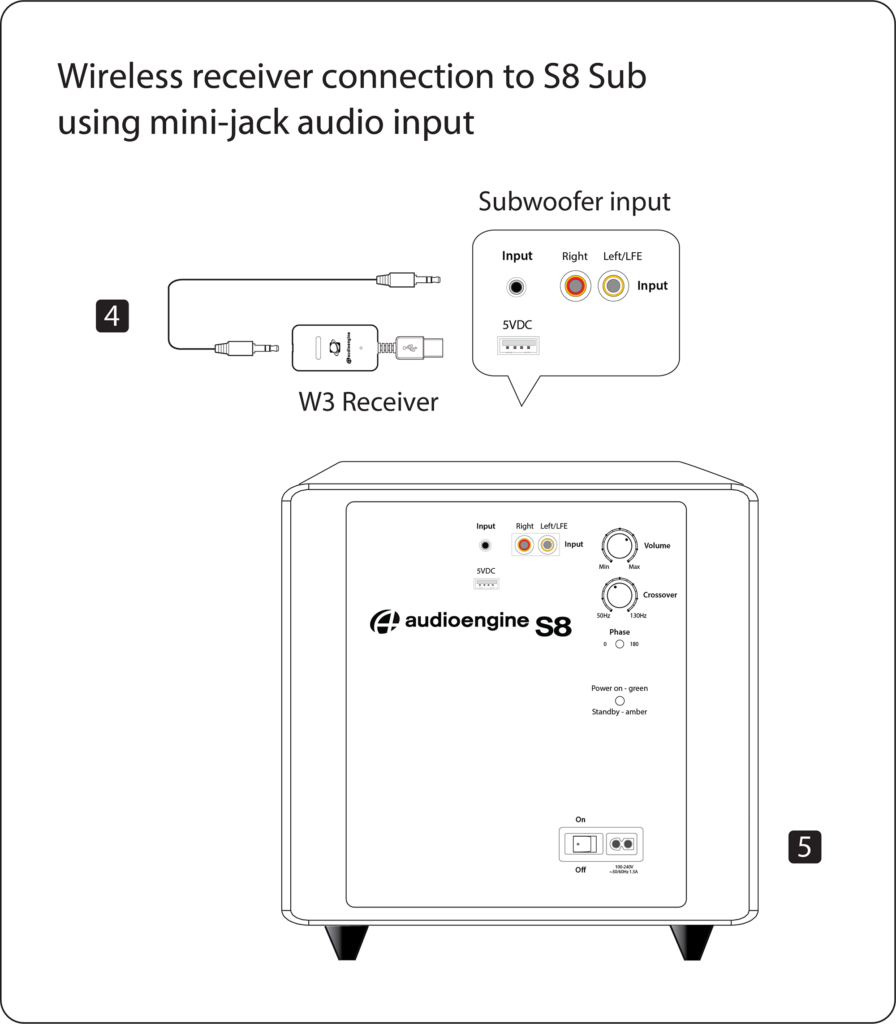 No, there are no firmware updates or special drivers needed unless you own our A1-MR multi-room speakers or our B-Fi multi-room wireless streaming device.
If a firmware update is released for the A1-MR or the B-Fi, you will be notified of the update the next time you open the Audioengine Control App. If an update is needed, simply click "update" on the DEVICES page next to the product that needs to have the firmware update applied. The app will handle the rest of the process from there!
Standard plug-n-play drivers that are provided by your computer's OS are utilized when using the USB input on our A2+, HD3, and HD4 speaker models.
And all of our Bluetooth speakers/products are compatible with any device that supports Bluetooth, and the A2DP profile for streaming stereo audio. This includes most smartphones, tablets, and computers. For computers that don't include Bluetooth support out of the box, you can simply add a USB Bluetooth adapter.
Most Audioengine powered speakers have variable RCA outputs for use with a subwoofer like the S6 (the exceptions being the B2 and the 512). This means that the output of the speakers and the RCA output will go up and down together. So once you dial in the volume of your S6, you should be able to adjust the volume from the speakers, or your source device. Either way the subwoofer and speakers should stay in balance as the volume is raised and lowered.
The S6's crossover is a variable low-pass filter, and will not adjust the audio for the RCA output connection. This is a full range line level output.
The S6's crossover is a variable low-pass filter. This means it variably adjusts how high the S6 will play. Unless the subwoofer is pretty far away, you can usually leave the phase switch set to 0°. When setting up a new S6, I like to start with the crossover all the way counter clockwise and, with some music I'm familiar with playing, first get the volume "about" right. After that try making very small adjustments clockwise on the crossover, evaluating each small change from where you'll be listening from most often. Once it starts sounding like you can localize where the sub is coming from, back it off until you can't again. You may also need to lower the volume a touch after the crossover is dialed in, or perhaps even while you're dialing it in, depending on the acoustics of the room you're in, and your own preference on how present you'd like the sub to sound.
Audioengine powered speakers have fixed passive crossovers designed specifically for them; this simply means that they are designed to play the frequency range they produce, so it's not necessary to alter this when adding a subwoofer. Adding a subwoofer, such as the S6, will pick up where the speakers leave off, extending the low end response.
Yes! You would just need an amp, like our N22, to supply power to the P4 speakers and connect to the S6.
The USB port can provide around 500mA, which is standard for high powered USB 2.0 devices; these are perfect for using a W3 or B1 for instance.
However, when trying to charge a iPad or iPhone for example, they require around 1000mA to charge with the screen on (the iPad's included USB charger actually provides around 2100mA to speed up charging with the screen on). If your device is at a higher battery level it should work fine to plug it in to the USB power port to maintain the battery while listening to music (with the screen on it will always show "not charging"). If the battery is low though, we'd recommend plugging it into the charger that came with it.