D1 32-bit DAC/ Headphone Amp
Introducing Audioengine D1 Premium 32-Bit DAC (digital-to-analog converter), our 2nd generation, top-of-the-line DAC and headphone amplifier that's the perfect audio upgrade for your computer, phone, tablet, TV, and more. D1 lets you bypass your computer's sound card or headphone output and send audio through USB C or optical. D1 is the perfect digital interface between your computer and music system makes it easier than ever to enjoy all your favorite tunes.
High-Performance Headphone Amp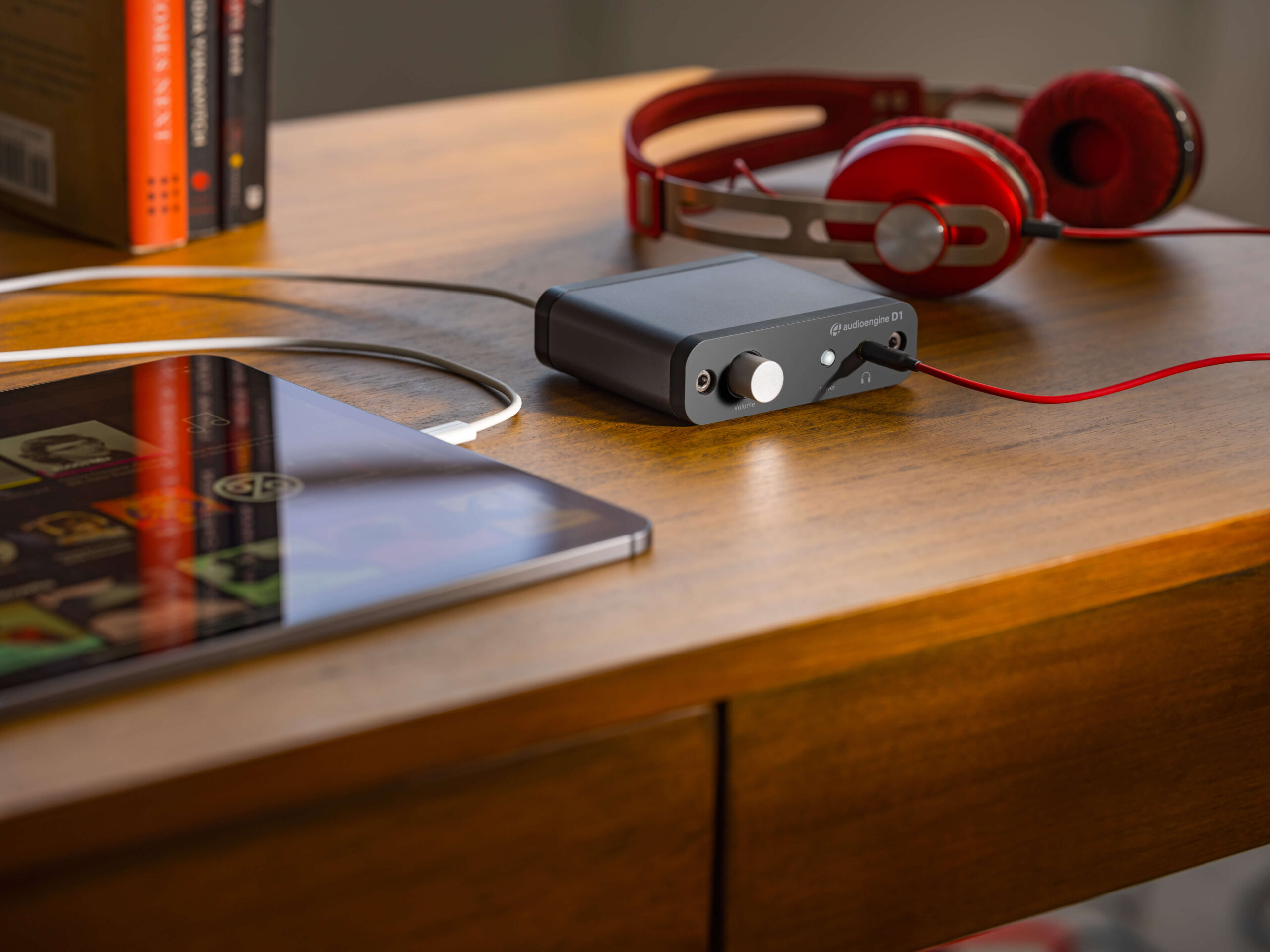 The D1: A Master of All Trades
The D1 features both USB C  and optical inputs as well as outputs for any audio system or headphones. The D1 DAC is the perfect way to get great-sounding music not only from your computer but also from your TV, Apple TV, DVD/BluRay player, or CD player. And since it's powered by USB C, D1 is also a high-quality portable computer headphone amplifier. And all of this fits in the palm of your hand.
Features
Here are just a few of the benefits to owning the Audioengine 2nd generation D1 Premium 32-Bit DAC
High-performance headphone amp and preamp
USB C and S/PDIF optical inputs for the digital signal, analog output for the analog signal
Direct volume control from your computer, phone, or tablet
Accurate volume control without any imbalance at lower levels, which means it doesn't get crazy loud when you turn it up just a touch
Separate outputs for headphones and powered speakers or AV receiver
Powered by USB C from your computer, phone, or tablet, so no additional cords necessary
Custom audiophile-grade RCA connectors and aluminum case, so it's rock solid and built to last
High-end sound quality at a budget-friendly price
It's the perfect size for your desktop or on-the-go
Designed for Audiophiles, Priced for the Rest of Us
Don't let the size fool you: the D1 can handle just about anything you throw at it. It processes digital audio at any bit depth up to 32 bits and any sample rate to 384KHz. And with its high signal-to-noise ratio and low distortion, the D1 delivers sound quality generally heard only in more expensive DACs. The high-performance headphone output was designed for a wide range of headphones and will satisfy even the most demanding headphone enthusiasts.
Setup That's as Easy as 1-2
First, you won't need any special software, apps or drivers, so this is a true plug-and-play solution. The D1 outputs connect to any audio system or powered speakers, such as the Audioengine A5+ or A2. Power for the D1 comes from the USB bus so there's no external power supply to connect. Once you've got something going in and coming out, you are ready to rock. (No, seriously. That's all there is to it.)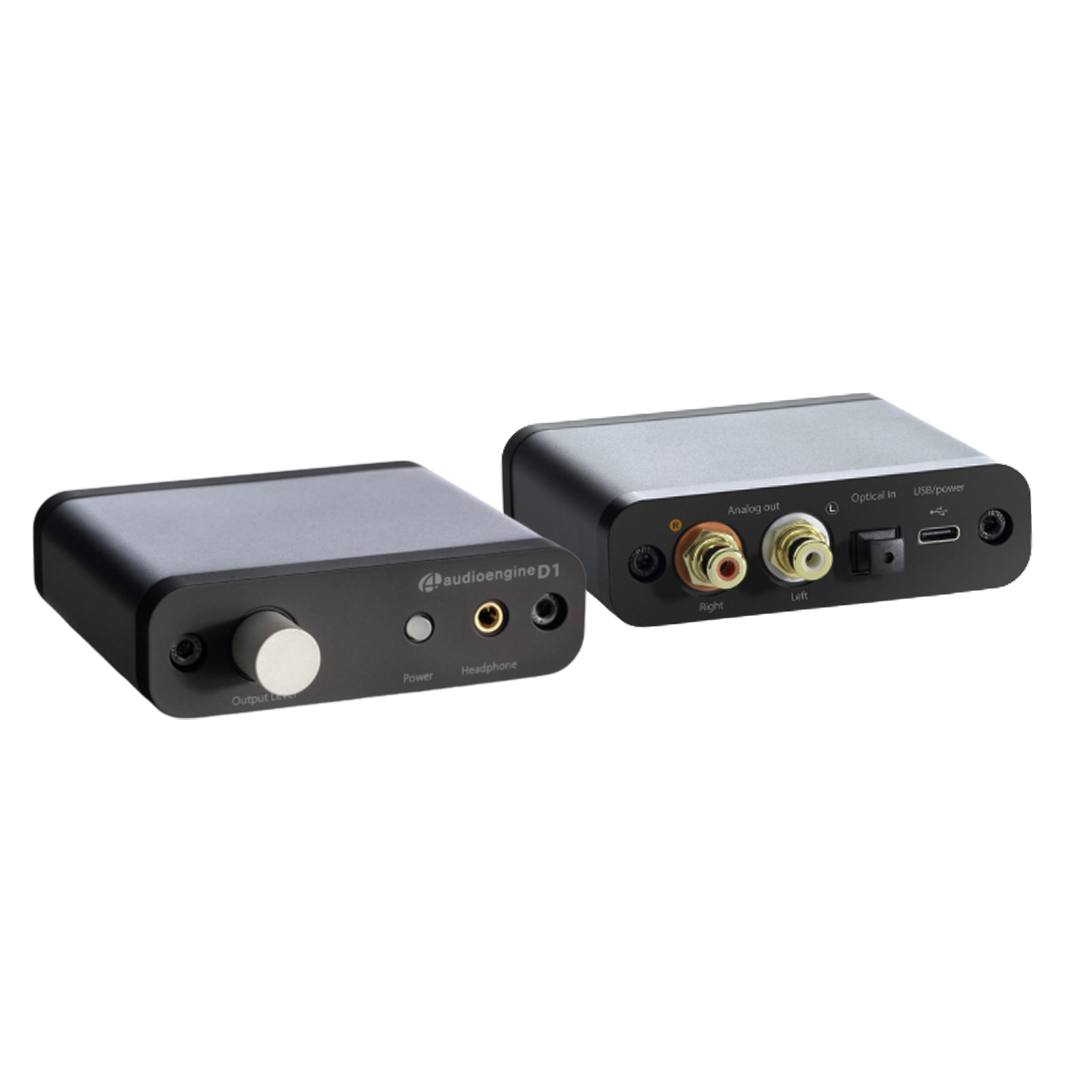 D1 DAC/Headphone amp (rear)
Tech Specs
Dual Mode USB C and Optical (SPDIF)
RCA stereo/3.5mm headphone
What's in the box
D1 32-bit DAC/ Headphone Amp
Why Choose Audioengine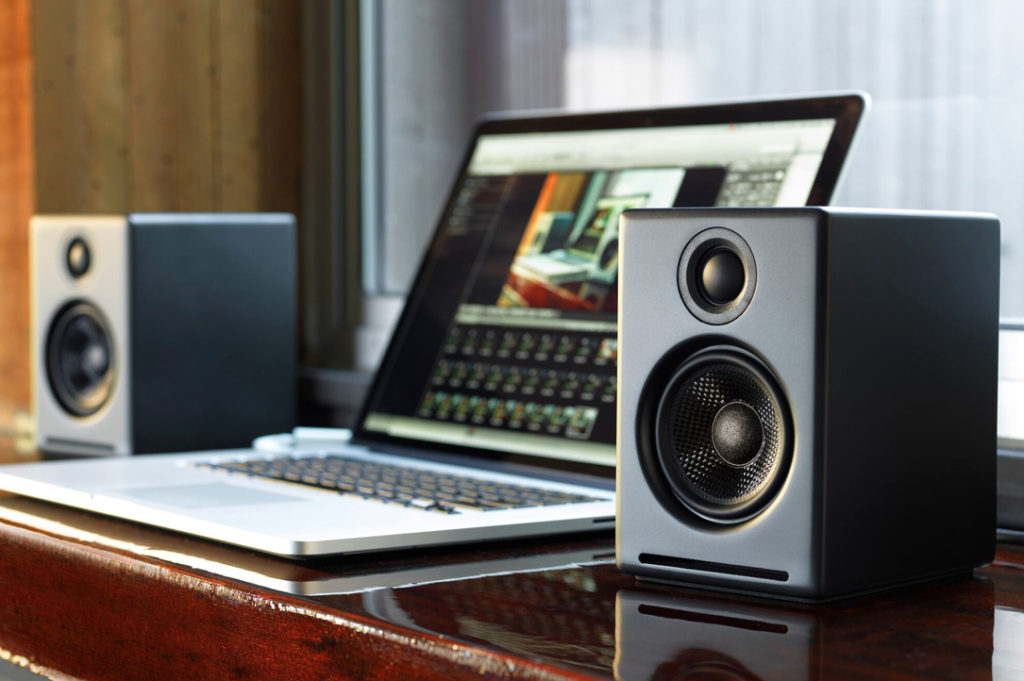 INCREDIBLE
SOUND
Your music the way it
was meant to be heard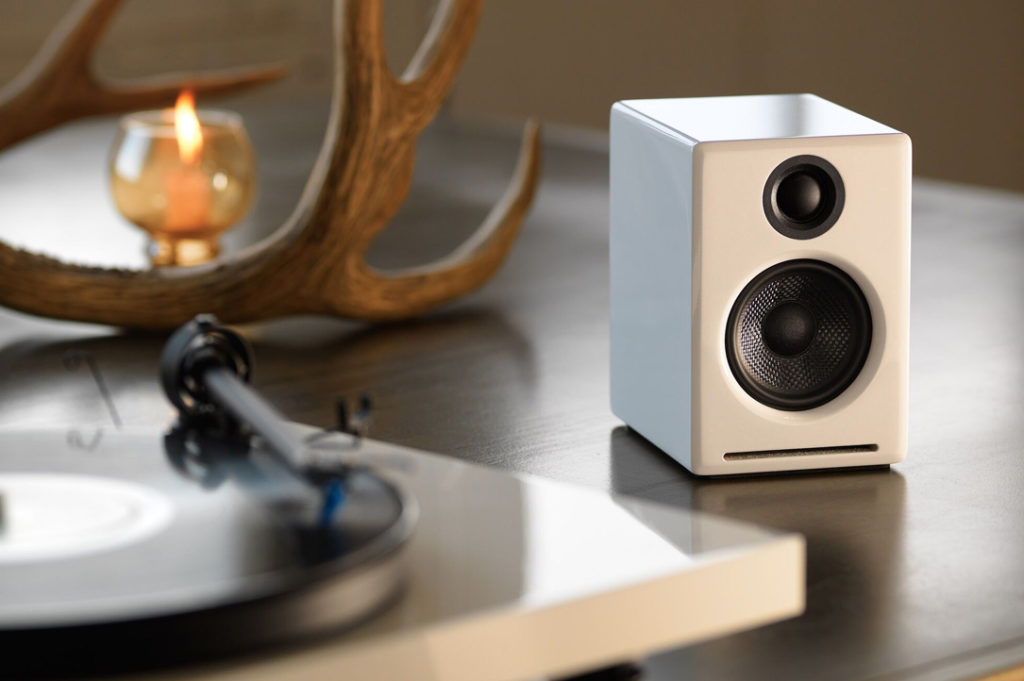 LISTEN
YOUR WAY
Stream all your music
from any app or device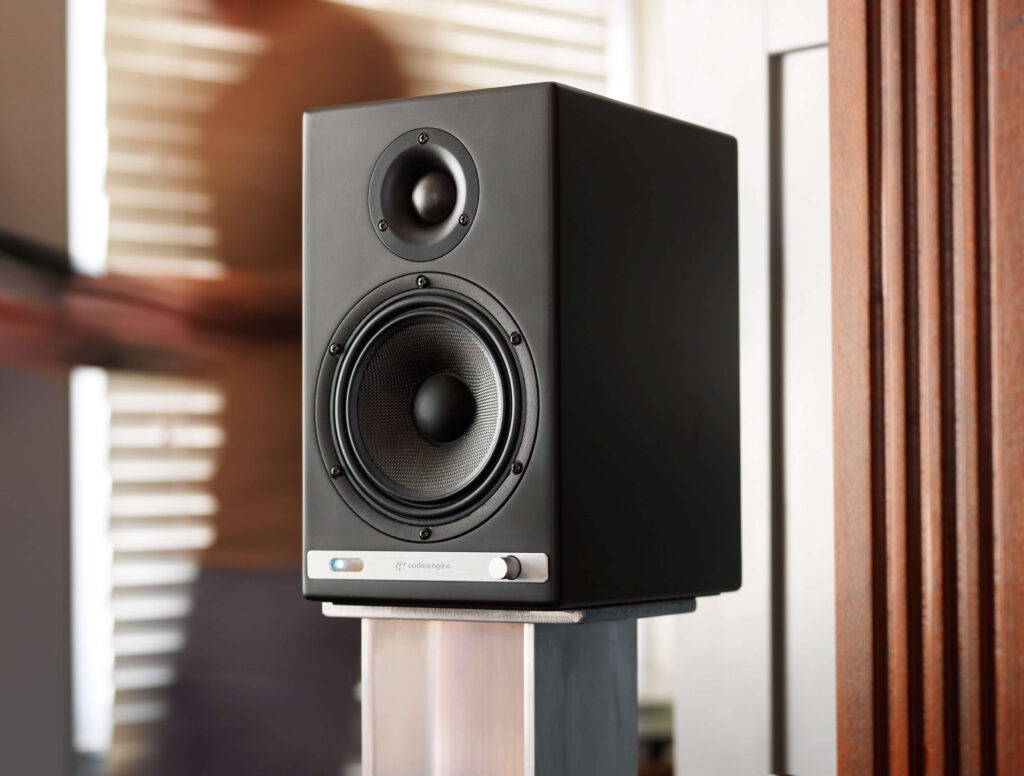 BOLD
DESIGN
Premium handcrafted
elegance for your home
Questions & answers about the
D1 32-bit DAC/ Headphone Amp
The D1 includes a headphone amplifier based on the ES9601C SABRE low noise opamp. This headphone amp is able to provide low-impedance, high-fidelity audio to a wide range of headphones. We've found the sweet spot for the D1 is headphones that measure between 20 and 300ohms. The resistance of a pair of headphones can tell you a little bit about how much power they need, though other variables do have an impact as well. We have heard from customers with headphones measuring as much as 600ohms who say they're happy with the output of the D1.
The D1 is essentially a very high-end external sound card. Its components and implementation of those components make it more capable than what might be built into a computer, not to mention the benefit of moving those sensitive components outside and away from the potentially noisy interior of your computer. All of this means the signal your speakers receive will be clearer, with a lower noise-floor, and with a more pronounced dynamic range over your internal sound card.
You should be able to incorporate the Airport Express with the D1 easily. All you would need to do is run an optical cable from the output of the Airport Express into the optical input of the D1. Then all you would need to do is connect the D1's RCA output into the analog input of your Audioengine Speakers or your AV receiver.
The D1 will work with any device that can operate as a USB host, can provide enough power via USB, and includes generic drivers for standard USB audio playback. A device with Android 5.0 or later should have both USB host mode and native plug-and-play functionality for USB audio, so you could connect the two together using a USB OTG cable along with a standard USB cable.
To get things up and running, you would just need to first connect the included USB cable from your computer's USB port to the D1; then you'll need to connect the RCA outputs to your powered speakers/ AV receiver or your headphones to the headphone output on the front of the D1.
Next, if using a Mac, you will need to go to System Preferences/Sound, and select "Audioengine D1"; if you're using a PC, no setting changes are needed as the computer will automatically find the USB driver. Finally, you'll just need to play music from iTunes or your favorite media player and that's it! Setup really is that easy!
Compare Us to the Competition
Audioengine A2+ Plus Wireless Speaker Bluetooth | Desktop Monitor Speakers | Home Music System aptX Bluetooth, 60W Powered Bookshelf Stereo Speakers | AUX Audio, USB, RCA Inputs,16-bit DAC (Black)
CSR8670 Internal Bluetooth Receiver
CSR8670 Internal Bluetooth Receiver
CSR8670 Internal Bluetooth Receiver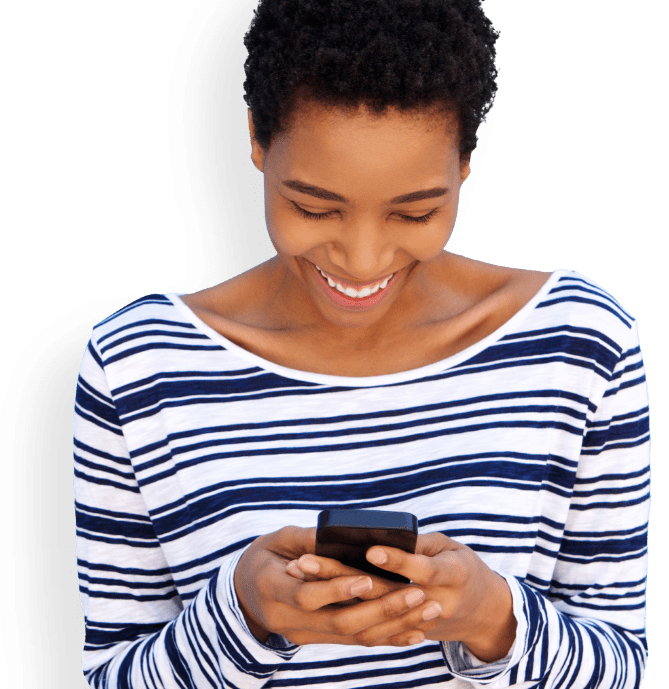 Fearless
Shopping
10-second checkout with Amazon or Paypal


Fast & free shipping

We pay sales tax, if applicable

30-day audition & easy returns

3-year warranty & superior support

Guaranteed smiles

We've Got Sound Advice for Everyone on Your Gift List