Building the Ultimate Audio System
Step 1: Powered Speakers
A high-quality pair of powered speakers is the keystone of any home entertainment setup.
Today let's look at what our A5+ Wireless Speakers bring to the table. Our designers spent years perfecting the design, sourcing the exact right parts, and tuning every frequency of this inceptive monument. Close attention was paid to the small components used in the power and preamp sections of these speakers, and we also paid that same attention to the larger components in these monsters. The woofers, tweeters, and cabinets are all essential to the distinctive sound of the A5+ Wireless, and these ingredients were combined to a product with beautiful high fidelity sound reproduction and a surprisingly broad and tangible stereo image. Without a solid foundation, it doesn't matter what pieces comprise the rest of your system; these speakers are the very bedrock of a calculated sound system.
Step 2: Upgraded Cables
Although the A5+ Wireless are, in fact, wireless speakers, this doesn't mean all of your connected devices will be wireless capable, so you'll need some quality interconnects.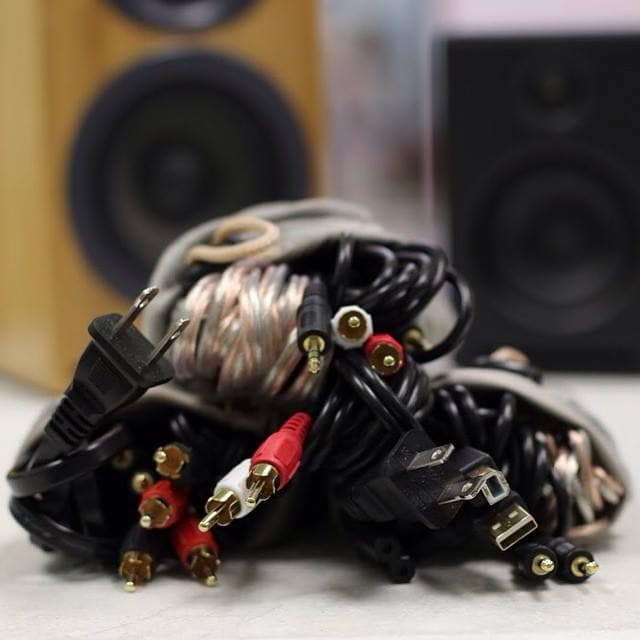 Now, you might be wondering if the supposed quality of cables really makes a difference, or if something so seemingly insignificant could possibly have an effect on sound or user experience. To be plain, quality is quality; whether it's paperclips or rocket ships, we can all tell the difference between something well made and something cheaply made.
Cables are no exception; without wires made from dependable, quality-controlled metals, your audio signal will actually suffer. Without robust insulation and solid connectors, the lifespan of your cables will lessen drastically. This is why we have our interconnects manufactured, by hand, right here in the USA, using first-rate materials chosen for the way they work together.
Step 3: Subwoofer
Often times subwoofers are overlooked, and even though a good set of powered speakers goes a long way on its own, a well-matched subwoofer can take a home audio setup to the next level.
The Audioengine S8 Subwoofer was designed to pair perfectly with Audioengine's many powered speaker systems, giving you control of the frequency crossover, phase, and volume of the subwoofer, separately from the main speakers. These features, along with the subwoofer's low-key aesthetic, allow you to experiment with the placement of the woofer as well as the shape of the sound it produces.
Adding a subwoofer to your system lets you hear and feel an entirely new dimension of sound, and brings an unprecedented dynamic to your movie-watching, gaming, or music-listening experience. And just think, you can even use those upgraded Audioengine cables to connect the S8 Subwoofer to your A5s!
Step 4: Sanus Steel Series Speaker Stands
Exacting the placement of your speakers is critical to getting the most out of your system, which is why we endorse the Sanus Steel Series Speaker Stands.
We offer the stands in two sizes, 34" high and 26" high, because every room is different, and depending on how high your ears typically sit while listening, you'll need to prepare accordingly. Stands can free up space on your mantle, bookshelf, or entertainment center, and will allow you to get the speakers an appropriate distance away from any back walls; this lets the speakers breathe and results in enhanced low end response. Adding a set of speaker stands can even help with the aesthetic of the room, and can dampen annoying vibrations otherwise caused by placing your speakers on a less stable surface.
The home audio system is a microcosm. Every piece, large and small, has a vital role to play in how the system functions. The quality of the parts makes up the quality of the whole, and Audioengine is proud to offer a full line of top-notch parts that make up one harmonious whole.
[Find out what speakers are best for you. Take the quiz]