Tiny Living. Big Sound.
There's an epidemic upon us; a sudden mass hysteria surrounding the concept of tiny living.
Whether it's a tiny house, vintage Airstream, camper, schoolie, or converted van, the world is becoming obsessed with the idea of #vanlife.
The real beauty of this trend is the hope to return to a simpler time by shedding the possessions that no longer serve us and finding inspiration elsewhere. But how do we define what possessions are necessary and what ultimately inspires us? I was recently faced with these questions when I myself moved my life into a converted 15-passenger van and hit the road looking for something I'd perhaps lost. And while at first, quality speakers didn't seem necessary, they have proven worth their weight in gold.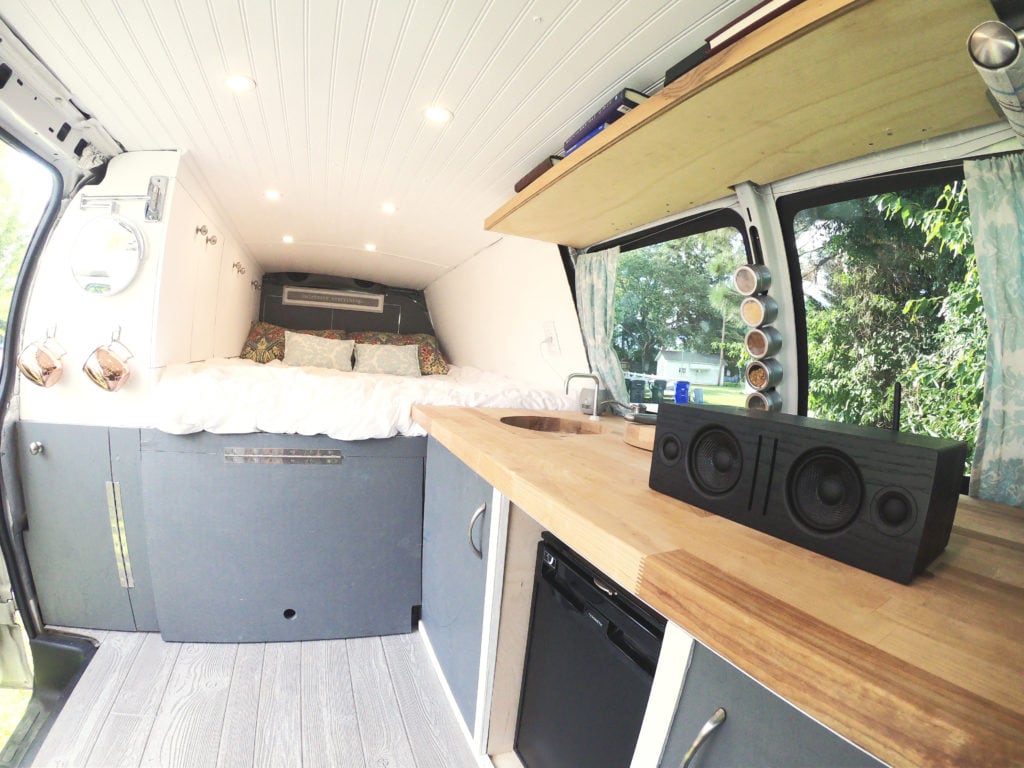 Not only does my Audioengine B2 wireless speaker blend great into my sleek, Instagram-worthy van photos, but it adds a nostalgic dimension to all my travels.
The B2, which only requires a power connection, will obviously connect to the power provided at any campsite, hostel, hotel, etc. but also works beautifully when I'm completely off the grid. Three 100-watt solar panels mounted to the roof of my van harvest every bit of power I could possibly need for these speakers and since my Audioengine does its job without devouring excess energy, my solar batteries can handle a full night of listening.
But why is this important?
Many of us are looking for something more. Inspiration doesn't come easy in today's world of infinite distractions and shallow social engagements.
For me, music is in itself as much of an escape as hopping in a van and heading for the horizon. In fact, music is the perfect companion to an adventure and so it's important to have quality sound. Kicking open the back doors of my van on a cool, dry evening, and letting Miles Davis' Kind Of Blue fade seamlessly into a symphony of midwestern crickets is the definition of inspiring.
Adhering new memories to familiar songs that already have so many deeply personal and emotional ties is something indescribable. But then again, I'm the type of person who carries music around with me everywhere I go. I breathe it, I crave it, I exude it. And now, I can be absolutely anywhere and hear my music as it is meant to be heard rather than letting it destroy my laptop speakers on full blast every single night.
Again, I believe the goal for so many vanlifers is to assess the material things they cling to and to allow themselves to find pleasure in purging the inessential.
Apart from that, vanlifers are looking for something more. They roam the Earth hunting down reminders, sniffing out knowledge, and creating memories.
Personally, I begin to feel very nostalgic on the road and it calls to mind certain bands or songs I haven't thought about in years. And I absolutely must embrace this. Nostalgia is one of the many tinders of inspiration, and the spark is a single moment. A moment when there is a faint familiar smell in the air, the wind is blowing just right, and you turn onThirteenby Big Star to seal it all in.
So when I think back to the day when I moved all my things into storage, sold the useless bits, and organized everything else into its exact place in my van, I would say my Audioengine speakers are not just necessary but absolutely imperative. They are small and robust in build, sleek and modern in aesthetic, friendly and modest on power consumption and all too easy on the ears.
There is no reason your tiny little life should go without big sound.