I usually go swimming weekly during the summer months. Swimming is a great way to cool down from the heat of the day, not to mention the place where I work -- the University of Calgary -- has an excellent lane swimming facility that I have unlimited access to. Of course, I only go swimming recreationally; I am by no means anywhere close to being the best swimmer of the bunch -- my Bronze Cross certification I got more than a decade ago is for lifesaving rather than competition. As such, I usually swim in the slow lane to not hold people back. One time, when I was swimming in the slow lane, someone put on flippers and started doing laps. For those who has swam with flippers before, your speed is pretty much multiplied. I did not understand why he stayed in the slow lane because he was at least twice as fast as everyone else. Eventually, I got annoyed and told him to move over to the next lane since he kept running into everybody. I think what he needs to understand is that flippers, albeit a small addition to your feet, makes such a big difference in your speed that puts you in a whole different category of performance. Almost six years ago, I reviewed the Audioengine A2+, a pair of speakers I said were "incredible; bar none". Fast forward six years and we have the Audioengine A2+ Wireless here at APH Networks, but with a small addition: Wireless capabilities. Will adding wireless to the A2+ make it all the better like adding flippers to your feet when swimming? Read on to find out!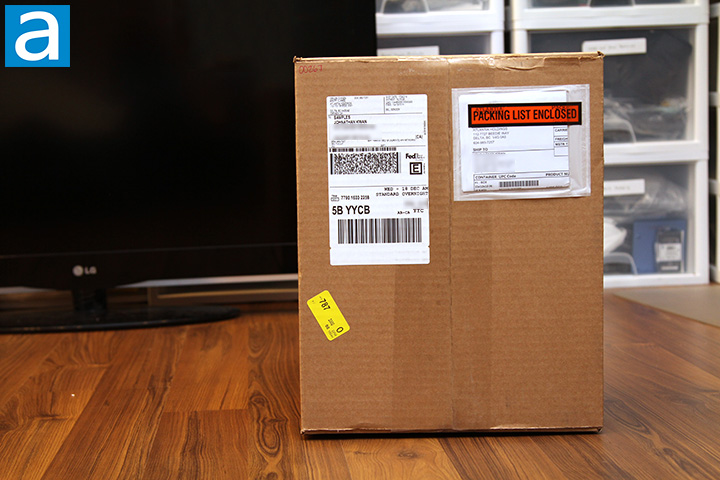 Our review unit of the Audioengine A2+ Wireless did not arrive from California, USA like majority of the products we review here at APH Networks. Instead, it came from Delta, BC, Canada, which is a city in the Greater Vancouver Area that borders Point Roberts, Washington. Audioengine's Canadian distributor, Atlantia, provided us with the sample for review, just like it has been in the past. Using a medium-sized brown corrugated box and traveling via FedEx Standard Overnight, everything arrived in excellent condition to us one province over to the east in Calgary, Alberta for our evaluation today.
Audioengine still uses the same general retail box design template as they did six years ago with the A2+. There were a few minor modifications made, but you would be hard pressed to identify the difference unless you look at them side-by-side. From our photo above, Audioengine keeps the packaging simple, just like the speakers. All you will get is the branding with model at the top, a photo of the speakers in the middle, and a line that describes the product at the bottom. That is it. On the other side, you will get the exact same thing. Stuff like its color and specified region is found on a label.
Before we move on, let us take a look at the specifications of the Audioengine A2+ Wireless, as obtained from the manufacturer's website:
General specifications
Type: 2.0 powered (active) multimedia desktop speaker system
Amplifier type: Dual class AB monolithic
Power output: 60W peak power total (15W RMS / 30W peak per channel), AES
Drivers: 2.75″ aramid fiber woofers, 3/4" silk dome tweeters
Inputs: 3.5mm stereo mini-jack, RCA, USB, Bluetooth
Outputs: RCA variable line-out
Mains voltages: 100-240V 50/60Hz auto-switching
SNR: >95dB (typical A-weighted)
THD+N: <0.05% at all power settings
Crosstalk: <50dB
Freq. response: 65Hz-22kHz ±2.0dB
Input impedance: 10K ohms unbalanced
Protection: Output current limiting, thermal over-temperature, power on/off transient protection
Connector type: Micro USB
USB device class: type 1.1 and above
Internal D/A converter: CSR8670
Input bit depth: up to 16 bits native
Input sample rate: up to 48KHz native
Bluetooth specifications
Internal BT receiver: CSR8670
Input bit depth: 16 bits
Bluetooth receiver type: Bluetooth 5.0 audio
Supported codecs: aptX low latency, aptX, AAC, SBC
Wireless operation range: Up to 100ft (30m) typical
Input data rate: Determined by Bluetooth
Wireless latency: ~30 milliseconds (ms)
Weights and measures
Dimensions (each): 6"(H) x 4"(W) x 5.25"(D)
Weight (LEFT speaker): 1.6Kg/3.55lbs
Weight (RIGHT speaker): 1.4Kg/3.15lbs
Shipping weight: 4.6kg/10lbs per pair
Shipping box dims: 10.5" (H) x 15" (L) x 7" (W)
Read full article here.