Audioengine Announces NEW high-definition Bluetooth aptX-HD speakers!
Made for your music. Inspired by the way you listen
Rounding out Audioengine's legacy HD-series, HD4 wireless speakers offer versatile, high-fidelity audio ideal for smaller spaces. A premium-powered, two-speaker setup that offers excellent music reproduction and surrounds you with a sense of presence that most compact systems often miss.
Bringing home the high-performance technology inside our HD6 along with the convenience of our modestly-sized HD3, the HD4 is a perfect blend of the power you love to feel and the modern functionality you depend on. Thoughtfully wrapped in precision-tuned, hand-built wood-veneer cabinets. 

Connect to your music no matter where it lives
An all-access pass to ALL of your music on any app or device, the HD4 offers wired or wireless connections including USB input from your computer, Bluetooth aptX-HD from your phone, or good old analog from that vintage turntable or prized tape deck.
Featuring Bluetooth aptX-HD for premium, extended-range wireless that allows for quick and easy connection to stream your existing music services, tune into your favorite podcast or listen to those carefully curated playlists from your personal music library. 
Your music, your way. Anywhere you want to listen. It's that simple.
Versatile size-defying sound with bold design that fits in
Designed to take on space limitations, the HD4 is the perfect upgrade where surfaces are minimal but performance and convenience can't be compromised. As handsome as they are compact, the HD4 will easily fit in any small living space and blend in with any decor.
Purpose-built for versatility, the HD4's modest design does little to prepare listeners for such expansive soundstage and crystal-clear imaging. The difference between listening to your music and hearing ALL of it...with more room for dancing.

Why you'll LOVE them
Quick and easy setup
No network setup, no passwords, no hassle
Versatile playback in any room, from any app or device
High-fidelity stereo sound for desktops and small spaces
Modern, compact design that fits in and fills up any room
Low-latency Bluetooth aptX-HD, extended-range wireless streaming
Analog input for easy turntable connection
Aramid fiber woofers and silk dome tweeters
Built-in power amps wrapped in precision tuned, hand-built and  finished wood-veneer cabinets
BONUS: The Audioengine HD4 is the smart choice in home speakers without being a "smart speaker." Experience agenda-free audio and feel confident knowing you're the only one doing the listening. Sorry, Alexa and Siri, we're in the business of listening to music, not listening to your business.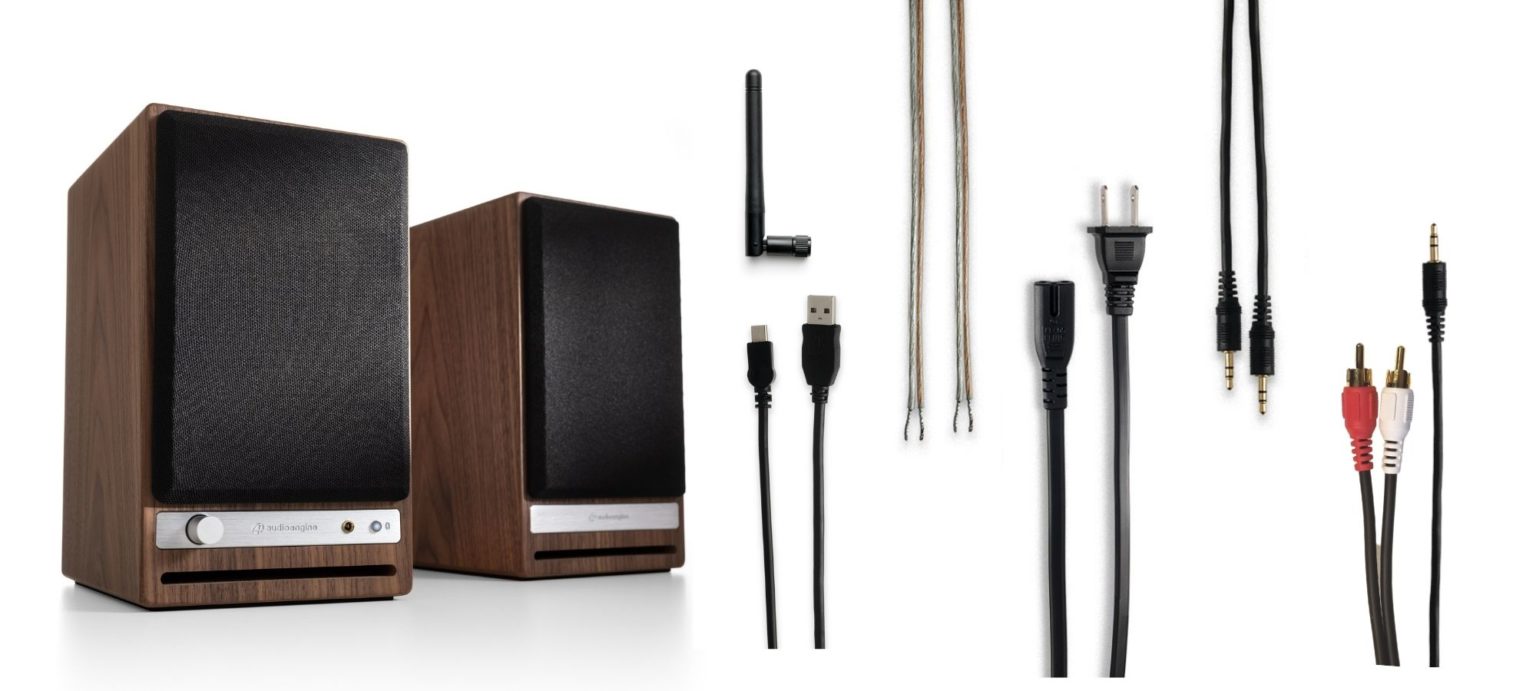 Audioengine Signature Sound
In 2005, Audioengine was founded on a simple goal: Design purpose-built home music systems that sound great, are easy to use, and make people want to listen to music every day.
Each new product gives listeners well-thought updates and improvements inspired by all the ways people listen to their music. The HD4 is no exception. Constructed with similar custom components found in the award-winning HD6 and HD3, the HD4 boasts everything you'd expect from an Audioengine product reimagined for the space-conscious music lover. Available to ship January 1, 2021!
Audioengine - Accessible, adaptable and absolutely incredible home audio for anyone who believes in the power of music.
Which Speakers are Best for You?
For their first few years Audioengine offered two products; the A2 Desktop Speakers and the A5 powered bookshelf speakers. And after seeing the success of these we decided to venture into more great products, eventually adding wireless capabilities, passive speakers, and other options to our lineup. These days if you find yourself browsing the Audioengine webstore you might think it a bit difficult to decide which of our awesome products is right for you. But rest assured, we have something for everyone and want to make it easy for you to decide, so we've come up with a list of questions you should ask yourself when shopping…
Do I Need Passive Or Powered Speakers?
A big important question indeed, but an easy one to answer.
Powered speakers are an all-in-one solution to your stereo system needs. They include both the amplifier AND the speakers. These are great if you want the full Audioengine experience and if you don't already have an amplifier that you absolutely love. A situation in which you would only need passive speakers is if you had an amplifier or AVR that you couldn't part with. Not to worry, if you do love your existing amplifier, our P4 and HDP6 passive speakers will pair perfectly with and give new life to any amp!
Do I Need Wireless Speakers?
This will depend heavily on the devices from which you wish to play your audio.
If you are looking for a set of powered speakers to play audio from a turntable or even an old tape deck you found in the attic, you really won't need to worry about having wireless speakers. Devices that are strictly analog should have the appropriate analog outputs required to connect directly to the inputs on our A2+ and A5+ speakers. However, if you know you will want to stream music from your laptop, tablet, or phone, you're definitely going to need to be in the wireless market; which includes our B2, HD6, HD3, and A5+ Wireless speakers. All of these are great options so your decision may lean on the next topic.
Does Size Matter?
The short answer is, sorta kinda.
If you have a specific physical space you're working with and need a speaker that fits, of course it matters. Smaller options include the A2+ and the B2, where larger speakers include HD6 and A5+ music systems. But the more important aspect is power rather than size. And yes, power definitely matters. While even the Audioengine speakers of lesser power still pack a major punch, it is important to consider the space the speakers need to fill. If you are going to use your speakers outdoors for parties or gatherings, it's probably best to consider a higher-power (or louder) speaker set such as HD6. But if you just need to connect your computer to some speakers to watch Youtube or listen to iTunes in your bedroom, the B2 will work great!
Audioengine speakers offer a 30-day audition and a 3-year warranty. So, if for some crazy unlikely reason you aren't happy with your speakers or if they malfunction, you're covered!
The simple fact is, we do make something for everyone. There are always a few factors to consider when making a purchase but hopefully this quick writeup gives you some insight on how to make the best speaker buying decision. In any event, we know you'll be blown away by the unprecedented listening experience you'll get out of Audioengine speakers.
---
About Audioengine
Best Gaming Speakers
You're big into gaming and we're big into sound. We need each other!
Gaming has come so far in the last 20 years that it's almost unbelievable. Game developers are some of the most talented artists in the world and making a cutting edge video game in today's world requires a great team of highly imaginative and detail-oriented people. The goal of gaming today is to take the user into an entirely new universe, with unique sights, sounds, and sometimes physics. And when this much effort is poured into every element of a game's design, why wouldn't you want to experience it with speakers that complement the 3-dimensional nature of the game itself?
For total gaming immersion, we have chosen 3 of our products; the A2+, A5+, and HD3. Let's take a look at each of these models and compare them…
[Find out what speakers are best for you. Take the quiz]
A2+ Desktop Speakers
The Audioengine 2+ Desktop Speakers are an upgraded version of our classic, award-winning model A2. They are compact enough to fit comfortably on a desk without crowding your gaming area, but still pack enough of a punch to enhance the impact of explosions, gunfire, and fights. The A2+ comes with a USB audio input so you can run signal from your computer into our streamlined digital-to-analog converter for beautifully reproduced sound. We even added an output to attach a subwoofer if you're looking for even deeper, more chest-pounding low end from your gaming experience. And if you want to go wireless just pick up an Audioengine W3 wireless adapter and start slinging sound.
A5+ Powered Speakers
Next up is the powerhouse  A5+ Powered or Wireless Speakers. At 150 Watts, these speakers can put you in the middle of another world. Every CGI footstep is crisp and clear and you'll find yourself hearing sounds you never realized were part of your games. These speakers are larger than the A2+ but if you have the space, they are a must-have. Connect your computer or gaming console through the audio inputs or go wireless and you'll still have the option to connect a subwoofer for enhanced low end. A5+ Wireless speakers come standard with our 5" aramid fiber woofers and robust sleek build, so when you get super frustrated and throw your controller you won't damage the speakers.
HD3 Wireless Speakers
The HD3 Wireless Speakers are closer to the size of the A2+, but pack in even more got-to-have features! Not only can you connect your computer or gaming system via a number of input styles, but you can also stream music from your phone or tablet using top quality aptX HD Bluetooth technology. They come in 4 finishes with removable speaker grills and a headphone output. This means you can block the outside world and completely submerge yourself in your gaming world by using your favorite pair of headphones with our built-in headphone amp for a superior soundstage.
Any of these models will undoubtedly take your gaming experience to the next level but it's just a matter of what best suits you.
Do you need more inputs? More power? Headphone option?
In any case, consider the amount of time and expertise that went into every aspect of your favorite games and think about all the nuances that make those games special and add depth to your life. Audioengine puts the same amount of time and expertise into their speakers because we want to make sure you have the best possible sonic experience no matter what you're all about.
[Find out what speakers are best for you. Take the quiz]
---
Bluetooth Receiver vs. Wireless Speakers
Customers occasionally write to ask questions about the differences between our B1 Bluetooth Music Receiver and our Wireless Powered Speakers. Usually the questions go something like…
"Do I really NEED your complete speaker system or just the B1 receiver?"
"Is one product easier to use than the other?"
"Are there differences in sound quality between the B1 Bluetooth Music Receiver and your Audioengine Wireless Speakers?"
…and there have been plenty more questions that come along with those — but have no fear, today we are here to hopefully clear this up!
First off, you should have some peace of mind knowing that no matter which solution you choose, we absolutely guarantee your satisfaction. Apart from that you might be wondering which option is going to best suit your needs — reasonable enough, so let's talk about it…
Do I really NEED the entire system or can I get away with just the B1?
Audioengine wireless speakers are powered music systems that implement cutting edge Bluetooth aptX-HD to deliver high-fidelity long-range wireless from any device.
The B1 Bluetooth Receiver also offers the same aptX-HD technology; the only difference being that B1 does not have built-in speakers, so you will still need speakers to hear your music.
Now, customers sometimes say "I already have a different brand of powered speakers that I LOVE, I just want to make them wireless." If this is the case, you can use B1 to turn your current non-wireless music system into some super-rockin' wireless speakers. Or maybe you have an older pair of Audioengine speakers that you bought before we made our speakers wireless — here again, the B1 is a great solution! You just need to make sure, no matter what system you have, that you have the proper inputs — RCA-style inputs work the best, or even an optical audio input if your gear has one.
Is one solution more user-friendly than the other?
Hey, great question — glad you asked! This one is a bit subjective and depends on how many components you want in your setup.
The simple fact is if you have Audioengine wireless speakers you will have the easiest setup under the sun. All you have to do is connect your speakers to power, connect the left speaker to the right, find the speakers in your phone or tablet's list of available Bluetooth devices and BOOM, you're done! Think of it as if the B1 Bluetooth receiver is built into Audioengine speakers.
On the other hand, if you are using a pair of non-wireless speakers and you want to make them Bluetooth compatible by using our B1 Receiver, you will need to add B1 to your setup, but in all actuality the B1 itself is just as easy to use as the speakers. Long story long, if you love your current speakers and aren't ready to make the switch, adding the B1 is still an extremely user-friendly option and you will be up and running with great-sounding wireless audio in no time flat.
Are there differences in sound quality between the B1 and the Wireless Speakers?
This is the only moment in this article where things might teeter on the brink of being controversial.
Audioengine's Wireless speakers guarantee immaculate and highly satisfying sound quality, which is hard to beat. The B1 offers aptX-HD Bluetooth with 24-bit upsampling (which are the exact same Bluetooth specs as our wireless speakers), so the audio being SENT from your devices to the B1 is no different than the audio being SENT from your device to Audioengine's Wireless Speakers; however, the B1 itself doesn't have any speakers, so it has to rely on whatever speakers it is connected to. This is the only point at which your sound quality COULD suffer.
So let's say you are sending the highest quality audio file from your laptop to the B1 Bluetooth Receiver. The B1 takes that super-high-quality file and handles it with such great care you may not be able to tell whether it was wireless or not…BUT, if you have your B1 connected to a crappy pair of speakers, guess what? No matter how pristine that audio file was, and no matter how skillfully the B1 handles that file, crappy speakers are going to make that audio sound crappy. BUT, if you are using the B1 to send audio to a pair of really great speakers that you love, the B1 will absolutely deliver the highest quality audio possible via Bluetooth, and it will do so with an extended range so you can bounce around the house and not worry about dropouts or inferior audio quality.
This was a ton of information so here's a quick recap and summary…
The Bluetooth capability of Audioengine's Wireless Speakers and the B1 is exactly the same. If you love your current speakers and aren't ready to change brands, don't sweat it, the B1 will give you beautiful wireless audio all the same. BUT, if you are looking to be truly reinvigorated by your music, you definitely need to try Audioengine's Wireless speakers to take advantage of both our highly advanced Bluetooth technology and our unparalleled listening experience.
Bluetooth Audio and Codecs
If you're curious about wireless audio and have found yourself doing some research, you're probably awash in buzzwords like codecs, sample rates, bit rates, resolution, bandwidth and heaven knows what else.
Lest you throw up your hands at the complexity of it all let's do our best to explain some of the basics of Bluetooth audio.
Bluetooth is a radio signal that sends data from a transmitter in your phone or computer, to a receiver in your headphones or speakers.  In order to be sent from one device to another in an efficient manner, this data has to be encoded by the transmitter and then decoded by the receiver on the other end.
This is a big job, not to mention it all has to be done in a fraction of a second.
The problem here is that traditional Bluetooth codecs can't process the amount of information necessary to recreate a faithful audio signal on the other end, so they have to compress the information.  During compression, little bits of information are lost, and as we discussed earlier, the "information" in this case is YOUR MUSIC!
Think about that for a second!
Your devices can't keep up with the amount of information your music requires, so they essentially throw it out; little bits of the frequency spectrum, dynamic range, etc. This may not sound like a big deal, but when you consider the idea that something like aptX HD can fix it, why would you settle for anything less?
Now before we dive into some of the technical aspects of what makes aptX HD so amazing, it's important to discuss some of the older codecs so we can understand what aptX HD really brings to the table.
Think of the word "codec" as a combination of the terms "code" and "decode," as these are the primary functions of all audio codecs; their job is to encode large information files so they can be more easily transferred, and then to decode that same file on the other end.
You're familiar with MP3s, right? Well, an MP3 is just a type of codec… a very widely used type of codec, in fact. Since we have all used MP3s, we are probably all familiar with how dramatically they can degrade the quality of an audio file. Luckily, tons of codecs have been developed over the years, all with the goal of vastly surpassing the audio quality of a standard MP3.  Some other codecs you may be familiar with are SBC, AAC, LDAC, and aptX. These are all considered superior to MP3s, but are also geared towards Bluetooth wireless audio.
So what's the difference between standard aptX, and aptX HD?
For starters, aptX has actually been around since the 80s, and is currently much more widely used than aptx HD.  Standard aptX has been used in phones, tablets, and laptops for a long time now so it's likely that you've actually experienced Bluetooth transmission that features aptX.  But for those of you who are looking for some numbers, here you go:
Standard aptX:
Speed:  352 kbps
Sample Resolution:  16-bit
Sample Rate:  48kHz
Aptx HD:
Speed:  576 kbps
Sample Resolution:  24-bit
Sample Rate:  48kHz
Alright, let's talk about that for a second.
The speed of these file transfers are measured in Kilobits-per-second (Kbps), and they define how quickly all of this audio information moves from one device to another.  48kHz denotes the sample rate of the audio data — the sample rate is measurement of how many samples of audio are carried from one end to the other end per second.
So this means aptX HD is providing audio information 48,000 times per second… and that's a lot of times.
Next, 24-bit denotes the sampling resolution — sample resolution is a measurement of how many bits of information are included in each sample. Most Bluetooth codecs simply cannot provide this much information.  Even if they could, they wouldn't be able to encode it and decode it faithfully within 1 millisecond.
Long story short: aptX HD recreates your audio data more accurately and in greater detail than aptX and does this more quickly, efficiently, and with very low latency.  Pretty impressive right?
Now I know Bluetooth audio has been pretty crappy in the past, but those days are over.  Out with the old, in with the new! With Apple and Google doing away with headphone jacks on their phones, we are practically being forced to make the switch to Bluetooth — this is why aptX HD makes so much sense.  If we are going to be forced to go wireless, why don't we take advantage of some Bluetooth sound quality that surpasses even traditional wired headphone connections in some cases?
Which devices support aptX HD?
In order to take advantage of the benefits of aptX HD, you'll need to make sure you have a device that supports it.
 
These devices will have a Bluetooth chip called the CSR8675, which is capable of supporting 24-bit audio from aptX HD.
To find out more about aptX HD and to see a list of all supported devices, please click the link below:  
Wireless Speaker Reviews are In
See what people have to say about our wireless speakers.
     B2 Wireless Speaker
They are the best bluetooth speakers I've heard. Quite loud as well. I don't want to bother everyone else in the building so I will be keeping it on the lower end. The sound is very true at low volumes though. Great buy!

Juan L

Bought this for my outdoor wedding. My husband is very very pleased with it! Sound quality is awesome it was so awesome that our upstairs neighbor had to come tell us to turn it down LOL!

Megan W

Powerful Bluetooth speaker. Loud, yet clear. Good Bluetooth distance. I like the quality and feel of the product. My son has it paired with an Echo Dot and he loves it.

Rommel L

HD6 Wireless Speakers

These are fantastic sounding speakers. Much more refined and lifelike than I expected. They also throw a wide and deep sound stage. The wood cabinets finished in genuine walnut veneer are stunning and flawless. The sound is more natural and balanced from top to bottom. They sound super smooth and relaxed. As an audiophile for over 40 years I have a very discerning musical palette and simply put the HD6 is a very musical speaker. The engineers at Audioengine know what they are doing.

Bruce W

Replaced a 20 year old receiver, was sad to see it go. 5 channel surround sound Cambridge audio, it was wonderful. Then along came the Audioengine HD6. Packed perfectly in three (3) boxes, cradled in a sack. They look great, the walnut is like a piece of furniture. Then you fire them up, 50 hours of break in, the first sound out of these things was wonderful. These are some great speakers. Get rid of your wires and get these.

CAJR88

So these sound….uhhhhh….. amazing? Yeah, lets go with that. They sound incredible and put out more bass than I typically expect from bookshelf speakers. I did still pair it with the S8 Sub because I like to feel the music or movie. Remote is made from solid aluminum so it's got some heft which is just lovely. Face plates are magnetically mounted to the speakers and seem to automatically center themselves, so that's pretty sweet too. 100% worth the investment so far!

Brad

HD3 Wireless Speakers

You will NOT find better sounding speakers in this size at any any price. The A2+ (which I used to own), is an inch smaller and basically sounds as good. But the HD3 has Bluetooth, a front mounted mountedvolume control, a better DAC, and HAS A GRILL. No other powered speaker in this size (and I have tried many of them) will sound nearly as good.

J Y

I can't believe all that sound comes from these tiny speakers! Truly impressive!

Kevin D

Holy hell! Phenom speakers! I've never really been an audiophile type, but for their size, I can't believe the clarity and bass these speakers put out. Via USB to PC, these are the perfect desktop speakers. The Bluetooth seems to be on-point as well. It immediately connects to my android phone from sleep mode; no need to power the speakers back on. I've noticed that when placed on my desk, the sound seems to hit me on my chest, so I've ordered the DS1 speaker stands. I was worried about them not seeming worth the price paid, but I have no regrets at all. If you're looking for a substantial upgrade from a cheap Bluetooth single speaker setup, just buy these.

Sean

A5+ Wireless Speakers

The quality and design of my new A5+ Wireless speakers are top notch! I read about the extended range of the Bluetooth but had no idea until I tested them 100ft away using my phone as the source and they still have clear crisp sound. Definitely worth the money plus Audioengine has a 3 year warranty. Highly recommend these speakers.

Robert A

These things are insane for their size. I have a decent sized living room and I can't come close to turning these up all the way. Clarity is absolutely perfect at any level. Bass is impressive. Can't see any need for an external sub. So far I'm thrilled with my purchase.

Nicholas A

These speakers are truly high performance with great design. The Bluetooth range is impressive. I can be anywhere in my yard and still get a great connection. The sound has proven to be very crisp with an impressive low end. I would definitely recommend these speakers.

Alan A
HD6 Wireless Speakers
HD6 Wireless Speakers are not just another great-sounding Audioengine speaker but a complete Bluetooth music system that works with all your apps, music, and devices (even your favorite turntable).
Blending the best of the past and present, HD6 combines stunning good looks with truly useful features. Tidal, Spotify, Pandora…all your favorite streaming apps play instantly.
No matter how you listen, HD6 Wireless Speakers have you covered.
"I can hear so much more detail than I could with other PC speaker systems I tried. Stereo separation is fantastic. And the tonality is pleasing and beautifully balanced."
"Audioengine's brilliant new HD6 speakers: Stereo imaging was remarkably broad… (and) the HD6's dynamic punch is awfully good…."
"HD6 is not just a pair of speakers, but an entire stereo system that both looks and sounds high-end, all for an extremely sensible asking price – a rarity in the audiophile world I assure you."

"I bought these to reduce clutter in my room. I had a receiver and it required remotes, shutting on and off every time I wanted to use it (they used too much power to leave on), extra space, a separate Bluetooth receiver and wires. It was basically a headache to use so I didn't use it much. These speakers eliminate the need for a receiver and thinking back to what I had before, I am very glad I made this purchase."
Jerome M
"These are fantastic sounding speakers. Much more refined and lifelike than I expected. They also throw a wide and deep soundstage. With the HD6 Audioengine opens the door to enter into the high-end audiophile arena. The wood cabinets finished in genuine walnut veneer are stunning and flawless. The sound is more natural and balanced from top to bottom. They sound super smooth and relaxed. As an audiophile for over 40 years I have a very discerning musical palette and simply put the HD6 is a very musical speaker. The engineers at Audioengine know what they are doing."
Bruce W
"Replaced a 20-year-old receiver, was sad to see it go, it was wonderful. Then along came the Audioengine HD6. Packed perfectly in three (3) boxes, cradled in a sack. They look great, the walnut is like a piece of furniture. Then you fire them up, 50 hours of break-in, the first sound out of these things was wonderful. These are some great speakers. Get rid of your wires and get these. From Mozart to Reggie these are one of the best pairs of speakers I have bought. Maybe the old surround sound was just old? These speakers replaced it with absolutely no regret. They pump just love out of them. Now go get a pair for yourself, it's a good thing."
CAJR88
"These speakers are amazing!!! Bass very powerful as if I had tower speakers!!! Amazing what technology goes into speakers this size!!!"
George M
Best Bluetooth Speaker for iPhone
Some of our customers have asked us, "what's the best Bluetooth speaker for iPhone?" Since Bluetooth is becoming more accessible, better sounding, and more convenient than using cables, it isn't surprising that this question has come up.
While we offer a few different speaker options with built-in Bluetooth receivers, finding the one that's the best Bluetooth speaker for iPhone can really come down to the size that would work best for your room and any additional features you're looking for.
First up, we have our Audioengine B2 Wireless Speaker. The B2 was designed to be a standalone wireless speaker that is easy to set up and delivers great sounding audio.
The B2 sounds similar to our A2+ speakers; think of it as the A2+ turned their sides and encased in a single solid-wood veneer cabinet.
Even though the B2 is in a single cabinet, you're still getting a stereo sound; the left and right channels are separated in the cabinet so there wouldn't be any unwanted resonance. The B2 works great as an easy-listening, background music solution whether you're cooking in the kitchen or throwing a small party.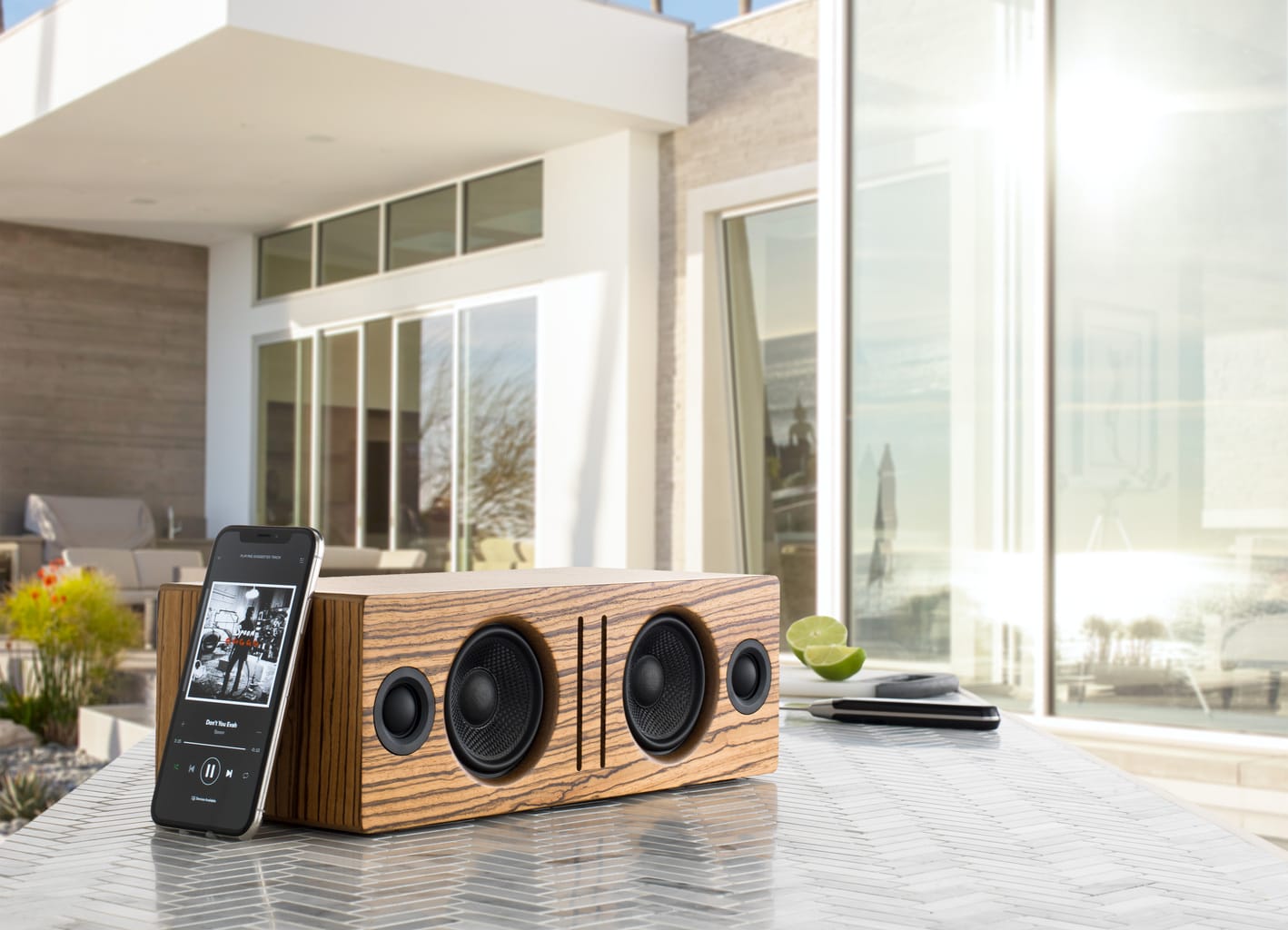 Next, we have the HD3 Wireless Speakers. The HD3 is a pair of desktop speakers that is loaded with features, such as a built-in Bluetooth receiver, USB input, two analog inputs, and an RCA output for a powered subwoofer. Since the HD3 features a left and right speaker, it allows you to spread the stereo imaging apart, unlike the B2.
The HD3 not only works for playing music while sitting at your desk, but it also works great in small rooms and offices.
Not to mention that it made PC Magazine's 2018 Best Wireless Speakers list.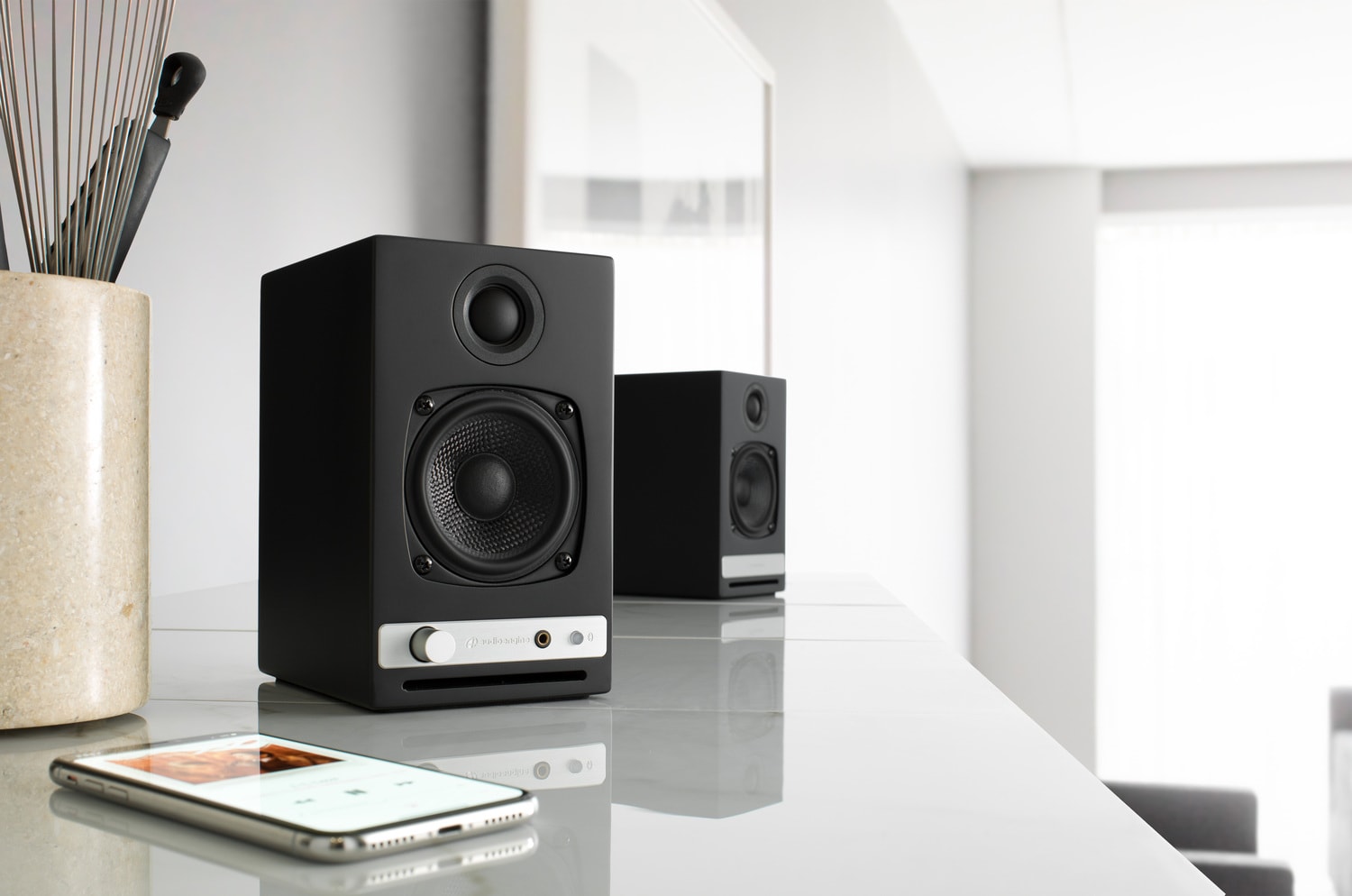 Finally, there's the HD6 Wireless Speakers. Bigger than it's little brother the HD3, the HD6 is able to be played louder and deliver more bass than the HD3s, making it great for larger rooms.
Along with Bluetooth connectivity, the HD6 also sports an optical input so you can easily connect it to your TV. Just like the HD3, we've also included two analog inputs and an RCA output so you can make this the ultimate music-listening, television-watching speaker setup.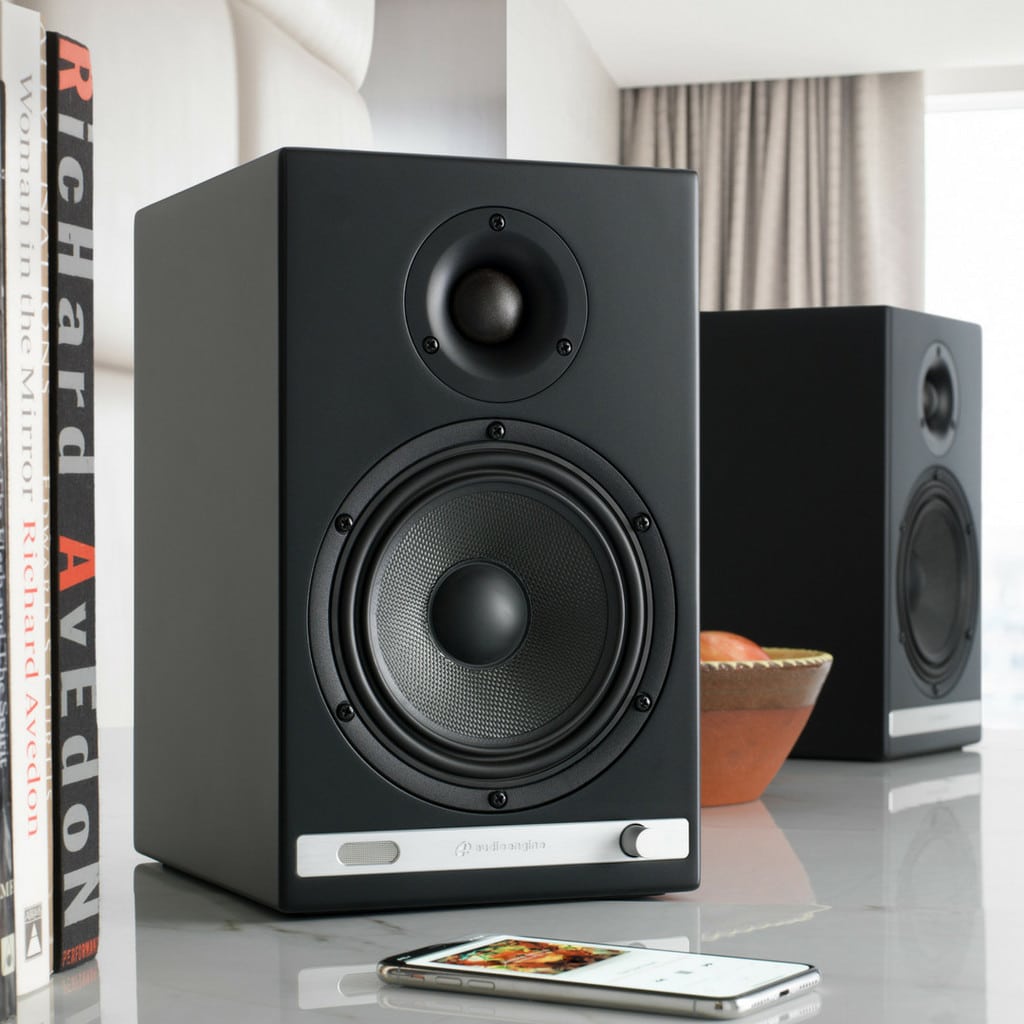 It's hard to say for sure what exactly the best Bluetooth speaker for the iPhone is, but between our options for wireless speakers, you shouldn't have an issue finding speakers that not only have sound great but are perfect for your needs and space.
[Find out what speakers are best for you. Take the quiz]
Need some more input, ask your fellow music lovers what speakers they are using and why they love them.
HD3 Wireless Speakers
The Audioengine HD3 Wireless Speakers are our most versatile speakers, packed with features designed for the many ways people listen to music today.
You will be hard- pressed to find another wireless desktop speaker system that offers the same audiophile-quality sound performance, easy-to-use features, and beautiful design as the HD3's.
Features
Equipped with a built-in Bluetooth receiver, USB input, two analog inputs (3.5 mm and RCA), and a high-performance headphone jack, the HD3 Wireless Speakers give you a wealth of listening options. Our built-in Audioengine power amplifiers make setup a breeze. Simply plug the left speaker into a power outlet, connect the wireless antenna to the rear panel, connect the left speaker to the passive right speaker with included speaker wire, turn them on, and connect to your device.
Performance
For their compact size, the HD3's pack a lot of power while delivering impeccable audio performance. The lows are rich, well rounded, and versatile, with several tonal options included with a bass reduction switch and RCA output for a powered subwoofer on the left speaker's rear panel. The mids are crisp and accurate, with vocals and midrange instruments shining through with great detail. The highs are shiny and bright and bring pristine clarity to any style of music.
This system is perfect for computer use, vinyl, and wireless streaming from all your devices and apps, and is powerful enough to fill a room with high-quality sound. Rather than only offering a single, self-contained unit like many other wireless systems, the HD3 Wireless Speakers are separate speakers that allow for wide stereo imaging and beautifully balanced sound.
Design
These speakers look as good as they sound, with a gorgeous, unobtrusive design appropriate for any office or home setup. They come available in Walnut, Satin Black, Cherry, or Hi-Gloss White finishes that all seamlessly match with vintage and modern furniture. They also feature aluminum trim accents and detachable magnetic grills that cover and protect the 2.75" aramid fiber woofers and 3/4" silk dome tweeters. At just 7" x 4.25" x 5.5" per speaker and 7.4 pounds combined, the HD3's are slim and light enough to fit anywhere on a desk or shelf.
If you're looking for an easy-to-use, compact wireless stereo speaker system that will look and sound great in your home or office, look no further than the HD3 Wireless Speakers.
Purchase them directly from our website and receive free FedEx Ground shipping, no sales tax, and a 30-day audition!
SaveSave