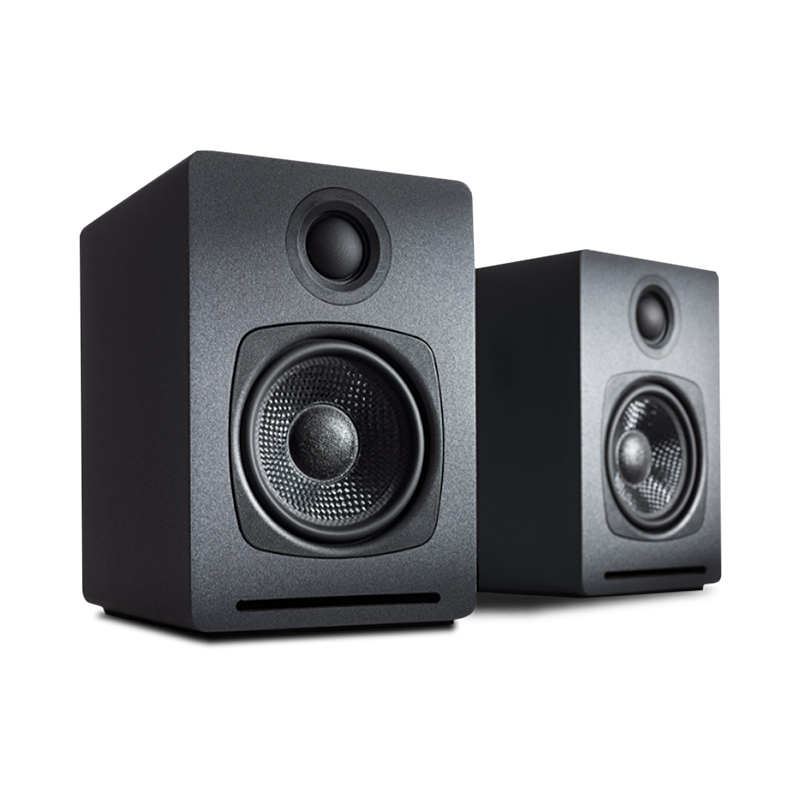 Tech Specs
A1-MR Multiroom Home Music System w/ Wi-Fi
If the house is a-rockin', you can thank Audioengine. With the A1-MR Multiroom Home Music System w/Wi-Fi, you can connect A1-MR speakers to your Wi-Fi network and using the Audioengine Control app, send the sound from your favorite music service or direct from your music library to any room you choose. Music has the power to move you. Now you have the power to move music.
Technical Specifications
General Specifications
Type
Powered Wi-Fi speaker system
Amplifier Type
Class D
Power Output
60 W peak power total (15 W RMS / 30 W peak per channel), AES
Drivers
2.75" aramid fiber woofers
0.75" Silk dome tweeters
Inputs
3.5 mm stereo mini-jack, Wi-Fi
Outputs
LFE Variable line-out for subwoofer
Input Voltages
100-240 V 50/60 Hz auto-switching
SNR
>95 dB (typical A-weighted)
THD+N
<0.05% at all power settings
Crosstalk
<50 dB
Frequency Response
65 Hz-22 kHz ±2.0 dB
Frequency Response w/ Bass Reduction Switch selected
N/A
Analog Input Impedence
N/A
Nominal Impedence
N/A
Input Impedence
10K ohms unbalanced
Crossover Frequency
N/A
Protection
Output current limiting, thermal over-temperature, power on/off transient protection
Power Consumption
Idle: 10W
Standby Consumption
N/A
Phase
N/A
Recommended Amplifier Power
N/A
Battery Life
N/A
Battery Charge Time
N/A
Bluetooth Specifications
Internal D/A Converter
N/A
Internal BT Receiver
N/A
Input Bit Depth
N/A
Bluetooth Receiver Type
N/A
Supported Codecs
N/A
Supported Bluetooth Profiles
N/A
Wireless Operation Range
N/A
Input Data Rate
N/A
Wireless Latency
N/A
USB Specifications
Connector Type
N/A
USB Device Class
N/A
Input Bit Depth
N/A
Input Sample Rate
N/A
Headphone Amp Specifications
Headphone Amp Type
N/A
Full-scale Headphone Output Level
N/A
Output Impedence
N/A
Recommended Headphone Impedence Level
N/A
Optical Specifications
Internal D/A converter
N/A
Input Bit Depth
N/A
Sample Rate
N/A
Weights And Measures
Dimensions (HWD)
Each speaker - 6" (15.2 cm) x 4" (10.2 cm) x 5.25" (13.3 cm)
Weight
Left (active) - 3.1 lb (1.4 kg)
Right (passive) - 2.4 lb (1.1 kg)
Total Shipping Weight
7.6 lb (3.5 kg)
Shipping Box Dimensions (LWH)
15" x (38.1 cm) 7.25" (18.4 cm) x 11" (27.9 cm)
Environmental Requirements
Operating temperature: 32 degrees F to 95 degrees F
Non-operating temperature: -4 degrees F to 113 degrees F
Relative humidity: 5% to 95% non-condensing
Materials And Construction
0.7" (18 mm) thick MDF cabinets
0.75" (20 mm) silk dome tweeters with neodymium magnets
2.75" (70 mm) aramid fiber woofers with advanced voice coils
Cabinets
To minimize unwanted resonances and distortion, Audioengine cabinets have thick high-resin MDF walls with extensive internal bracing. Heavy internal sound-damping material is used to reduce unwanted sound reflections inside the cabinet. All cabinet edges are rounded which look great and reduce high-frequency diffraction effects on the front baffles. The A1-MR cabinet contains tuned, front-port slots.
Furniture Grade Finishes
The A1-MR cabinets are in versatile, grey finish offering a modern compliment to any small space or desktop.
Custom Components
Audioengine designs and manufactures our own tweeters, woofers, and other critical components. In other words, these are not "box built" speakers with off-the-shelf parts but custom-designed to our specifications. What we do not fabricate directly in our factory we have made to our designs (parts such as transformers, magnets, and wiring harnesses, for example). The cabinets, drivers, bass port designs, amplifiers, and crossovers are all painstakingly tuned together for each Audioengine model. This, in turn, makes for a much more efficient system that requires much less power than passive speakers and a separate integrated amplifier or similar A/V components.
Based On Studio Monitor Designs
Studio monitor speakers are used by producers and engineers in recording and production studios. They are designed with a theoretical flat frequency response which allows the engineer to create a final mix in such a way that the recorded music will sound good on most other speakers. Although Audioengine speakers are not designed to be up-close "nearfield" studio monitors, we do carry over much of the same higher-end technology, components, and design philosophy for all Audioengine speaker systems.
Efficient Integrated Design
The speaker cabinets, drivers, innovative bass port designs, amplifiers, and passive crossovers are all critically tuned together for each Audioengine model. This, in turn, makes for a much more efficient system that requires less power than passive speakers and a separate integrated amplifier or similar A/V components. We build all this goodness into the left speaker cabinet to make it super-easy to connect your smartphone, tablet, computer, TV, network player or any other audio product.
Amplifier Design
The amplifiers in powered Audioengine speakers are located in the left speaker and are a conservatively-rated class D analog monoblock design. This is a more traditional speaker/amplifier marriage which provides excellent quality audio and greater flexibility. All circuit boards for the power and preamp sections are vertically mounted for maximum mechanical shock protection.
Driver Designs
Audioengine uses audiophile-quality, ferrofluid-cooled silk dome tweeters with neodymium magnets. Silk tweeters hold up well under high power and the edge-driven design gives very smooth response. The woofers are aramid fiber woven glass composite with rubber surrounds. Aramid fiber is obviously very strong, which means the woofer retains its shape when being driven at high levels.
Shielding
Both drivers are directly video shielded and allow the user to place the speakers within a few inches of a video monitor. This shielding also offers protection for hard-drive digital music players.
Quickstart Guide
A1-MR Quick Setup
Step 1: Download the free Audioengine app from the Apple App Store for iOS or from Google Play for Android. A1-MR setup as well as multiroom and stereo configurations are done via the Audioengine app from an iOS or Android device.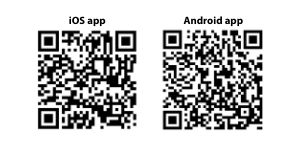 Step 2:  Connect the included speaker wire from the A1-MR left (powered) speaker to the right (passive) speaker, observing proper polarity to each speaker connector.
Step 3: Connect the Ac power cord to the A1-MR left speaker rear panel and plug the other end of the cable into a functioning power outlet.
Step 4:  Turn on power via the rear panel volume/power knob and set the volume to around 50% so you can hear the audio prompts during setup.
Step 5: The A1-MR Status button will blink rapidly for 15 seconds, then a piano tone will play.
Step 6:   The A1-MR Status button will now blink more slowly and a voice will say: "Entering setup mode. Follow the instructions in the app to finish the setup."If no piano tone or voice is heard after 15 seconds, increase A1-MR volume level.
A1-MR will remain in setup mode (slow-blinking Status button) for 5 minutes before timing-out.
To go back into setup mode, press and hold the A1-MR Status button for about 5 seconds until you hear the voice prompt again.
Connecting A1-MR wirelessly to your internet router.
As device screens seem to constantly change with updates and not all Android menus are identical, the easiest way to get through this setup is to follow the instructions directly in the app and listen to the voice prompts.
During setup we recommend that your phone, A1-MR, and wireless internet router are within 15 feet of each other. You may need your wifi password if it's not already saved on your device.
Step 7:  Open the previously downloaded Audioengine app onto your iOS or Android device and select "OK" if you want the app to access your music library on your device.
Step 8:  The app will say "Searching for Audioengine Wireless Hi-Fi System." Select "Add Device".
Step 9:  Following the app instructions, select "Settings" to leave the app and go into your device's wifi settings.
Step 10:  Turn on your device's wifi and select "Audioengine A1-MR" from your wifi list.
Step 11:  The audio voice will respond "You are now connected to your speaker. Follow the instructions in the app to finish the setup."
Step 12:  Go back into the Audioengine app.
Step 13:  A1-MR works on 2.4G, so select 2.4G network from your wifi list and enter your internet router password if prompted to do so.
Step 14:  The voice will then say "Connected to your wifi network." Select "Next".
Step 15:  Rename A1-MR if you wish, then select the right arrow at the top of the screen.
Step 16:  Swipe left 2 times to get to your music or exit the app and go to another player.
Having trouble? Try moving A1-MR and your device closer to your router. Restart your router, device, and A1-MR.
Troubleshooting
A1-MR Troubleshooting Tips
The following troubleshooting tips can help diagnose and correct most concerns with the A1-MR. We have attempted to make this list as comprehensive as possible, so some of these may not apply to your issue, but please go through each tip. If the problem persists and your A1-MR is located within the US, please provide us with the following information: serial number, purchase information (when and where), your current shipping address, and the results of each step.
If your A1-MR is outside of the US, we are unable to offer product services, but please use the link below to contact the distributor in the country where the A1-MR is located. Since the distributor is who will be assisting you from this point on, they will be able to let you know what options you may have. Be sure to still include your full name, where and when your A1-MR was purchased, the serial number, and your current shipping address when contacting any distributor:
https://audioengineusa.com/international-distributors/
If you haven't already, power cycle your A1-MR by unplugging the power connection, and reconnecting it.
If the power indicator on the A1-MR is not illuminated, try these tips:
Make sure the AC power cord is connected to the power supply unit and to a working AC power outlet.

Check that the cable at the other end of the power supply is correctly connected to the rear panel of the left speaker.
If the power supply light is on but you are experiencing an audio-related issue with a wired connection, try these tips:
Verify that the volume/power control on the rear panel is not turned all the way down or powered off (we recommend setting the volume to at least the 10 o'clock position)

Check that the volume level of your audio source components or devices is not set to minimum volume or powered off.

Check speaker wire connections from the left (powered) speaker to the right (passive) speaker. Confirm this by removing the speaker wire from each speaker and reconnecting.  Also check the speaker wire polarity by verifying that the wires are going to the same terminals on both speakers.

Check that the cable from your audio source to the speakers are properly connected. Confirm this by unplugging the audio cable and then reconnecting.

Decrease the volume of the input audio source and increase the volume of the speakers.

Try playing audio from more than one application on the source device you typically use to connect to your A1-MR (phone, tablet, computer, etc). Make sure the volume is up on your media players, internet radio, master control, device volume, etc. and the balance control is centered.

Check to make sure your source device is running the most up to date version of software available. If an update is available, make sure you restart your device after the update is installed. For Mac users, be sure to check the App store to see if there's a newer version of Mac OS you could be running.
FAQ's
No, the A1-MR speakers and the B-Fi Multiroom streamer are not compatible with Chromecast. Android users can still use the Audioengine Control App to access and control the audio streaming to either of these devices.
Absolutely! Our speakers are safe to place sideways and, from our experience, sound great. When doing so, we recommend that you position each so the tweeters are facing outward.
The speakers we offer that are designed to have a remote control are the A5+ Classic, A5+ Wireless and HD6.
The following systems do NOT support a remote control: 512, A1, A1-MR, A2+, B2, HD3, HD4.
In order to stream Spotify to the Audioengine B-FI or A1-MR, Spotify requires a paid Premium account. This unlocks the Spotify-Connect feature within the app to send the audio to your Audioengine B-FI/A1-MR.
A single device using a personal (1 user only) Spotify Premium account cannot play multiple songs simultaneously. However, this would be possible with a family plan and more than 1 device (B-Fi or A1-MR) though.
No, there are no firmware updates or special drivers needed unless you own our A1-MR multi-room speakers or our B-Fi multi-room wireless streaming device.
If a firmware update is released for the A1-MR or the B-Fi, you will be notified of the update the next time you open the Audioengine Control App. If an update is needed, simply click "update" on the DEVICES page next to the product that needs to have the firmware update applied. The app will handle the rest of the process from there!
Standard plug-n-play drivers that are provided by your computer's OS are utilized when using the USB input on our A2+, HD3, and HD4 speaker models.
And all of our Bluetooth speakers/products are compatible with any device that supports Bluetooth, and the A2DP profile for streaming stereo audio. This includes most smartphones, tablets, and computers. For computers that don't include Bluetooth support out of the box, you can simply add a USB Bluetooth adapter.
The short answer is 'yes'. However, you will need to use an app that gives you the ability to use Airplay while in Windows. Though there are a few options out there, we've found TuneBlade to be one of the more affordable and easy-to-use applications available. TuneBlade is a simple tray utility that lets you stream system-wide audio to the Al-MR from your Windows device. There's a one-time fee of $9.99 to purchase the app, but they have a trial version you can try out for free.
To start, make sure your A1-MR is setup on the same network as your Windows device (PC/laptop). Once TuneBlade is installed, start the program. TuneBlade will automatically locate your A1-MR and any other Airplay-ready devices connected to your network.
Start playing the audio you wish to stream to your A1-MR(s). While the audio is playing, hit the 'play' button next to the corresponding A1-MR in the TuneBlade app. All audio coming from your computer will now be passed on to the B-Fi. While using TuneBlade, you can send the audio to multiple A1-MR's at once and the audio will automatically sync between A1-MR's without the need to group them in the Control App.
Things to keep in mind when using TuneBlade:
If you have speakers directly connected to your computer, then turn them down (using the volume controls on the actual speaker) as there will be a slight buffering delay between the audio from your computer speakers and the speakers connected to your A1-MR(s).
TuneBlade streams system-wide audio, so Windows notifications will be passed through when they occur.
TuneBlade is a work-around we found offering Windows users the same streaming capabilities via Airplay that Apple users have.
If your A1 or A1-MR speakers sound distorted, are buzzing, or just don't sound quite right, we'd recommend the following troubleshooting steps:
Start with power cycling your speakers by turning them off and then back on. From there:
Determine if the distortion is due to your source by disconnecting all source devices from the speakers.
Please make sure all of your connector cables are in working order. Try different cables as well as a different source device.
Please try using the stereo mini input and Bluetooth (or WiFi in the case of the A1-MR), one at a time, to see how the speakers react.
Make sure it is not a power issue by trying a power outlet that is on a different circuit.
If the issue persists, please click on the following link and then click on the dropdown to submit an email to our Support team:
When doing so, please copy and paste the above troubleshooting steps along with the results of each and include this information when contacting us.
Applicable to our A1, A1-MR, A2+, HD3, HD4, A5+, and HD6 speaker models
If one of your speakers is not working (whether it be the left or right speaker), we would recommend the following troubleshooting steps:
Start by power cycling your speakers by turning them off and then back on. From there:
Check to make sure the speaker wire connecting the left and right speakers is connected according to proper polarity (Red to Gold, Black to Silver) on both ends.
Please make sure all of your connector cables are in working order. Try different cables as well as a different source device.
If you are using any other devices in line with these speakers, please temporarily remove them from your setup and connect the source directly to the speakers
Please try using each available input, one at a time, to see how the speakers react. When testing via RCA swap the RCA jacks (red to white and white to red) to see if the issue remains in the same channel.
If the issue persists, please click on the following link and then click on the dropdown to submit an email to our Support team:
When doing so, please copy and paste the above troubleshooting steps along with the results of each and include this information when contacting us.
Yes, you still need to connect the active/left speaker to the passive/right speaker via the included speaker wire. The passive right speaker has no power source of its own and relies on the amplified signal coming over the wire.
You can use either a single LFE RCA cable or stereo white/red RCA cable.
Connect FROM your powered speaker's 'Subwoofer' output TO your subwoofer's 'Left' RCA input or the subwoofer's LFE input.
For stereo RCA cables, just use the left/white RCA cable, and leave the red RCA disconnected to prevent an accidental ground loop.
** Please note: a 3.5mm/stereo mini cable will not work with the 'Subwoofer' output on the back of your A1/A1-MR speakers. **
A1-MR uses your home WiFi network to stream music directly from the cloud or from an Apple Airplay source. A1 is a traditional Bluetooth speaker where music is streamed directly from your phone or other Bluetooth ready devices.

Your phone, tablet or computer controls the music being played on both systems. However, since the A1-MR is connected to music services through the internet directly, once playing it will act like a traditional radio. This frees up your phone for calls and does not drain the battery.

The A1-MR can be synchronized with other A1-MRs or the Audioengine B-Fi, creating a whole home solution with independent volume zones.

A1-MR uses the Audioengine Control app for initial setup while no product app is required for A1.
Bluetooth uses "lossy compression", meaning that some audio data is lost. In most cases, this is imperceptible. Depending on the music service, WiFi can deliver lossless CD quality audio to the A1-MR.
The A1-MR is a powered speaker system with WiFi streaming built in. The B-Fi has access to the same streaming services, but it is an adapter designed to connect to an existing music system.
Both systems receive the same high-fidelity streams from your favorite services. Since the B-Fi is designed to enable streaming on an existing music system, the sound quality will depend largely on that system.
Yes, while streaming via Airplay or Spotify Connect (with a premium subscription).
The Audioengine Control app supports a maximum of 12 rooms, however for most homes we recommend 8.
After setup you can stream your music anywhere within your WiFi network range.
Yes. If your hotspot is listed as a choice in Wi-Fi networks, you can use it as an access point.
The A1-MR supports lossless playback of CD quality audio, with zero compression. While you can play higher than CD quality audio to the A1-MR through DLNA, UPnP, or high res streaming apps like TIDAL and Qobuz, all audio is transmitted at 16-bit 44.1kHz.
Yes. You can play music from your computer library or NAS.
Yes, anybody connected to the same network can control volume and the music source.
The A1-MR is a 2.4GHz device but most networks are dual-band, so select 2.4GHz during A1-MR setup. 2.4GHz has more range, meaning more places you can place your system.
Sending music to multiple A1-MRs can be done with any source after grouping the systems together. Start by playing music on one through the app, Airplay, or Spotify Connect. Then in the app, drag any additional systems onto the system that is playing. They will synchronize and you will be able to control the volume of every system separately. The app will remember these settings until they are changed.
You will not be able to synchronize music between the two systems, but both will show up as playback devices in Airplay or Spotify Connect.
You'll need to make sure you have gone through the initial set up process for the A1-MR before moving onto the below steps.
For iPhone users:
On the iPhone, swipe to open the Control Center. (the swipe direction is dependent upon the iPhone model you are using)

In the music control area, tap the

AirPlay

button.

A list of AirPlay capable devices seen by your iPhone will be shown. Tap the A1-MR to connect to it.

Once connected, you can use your iPhone to send audio to your A1-MR without the need to open the Audioengine Control App.
For Mac users:
Option 1:
Make sure that your Mac and A1-MR are on the same Wi-Fi network.

Go to Apple menu > System Preferences > Sound.

Under Output, you should see a list of any devices you are able to AirPlay to, and the A1-MR should be an option. If you named the A1-MR during setup, it may appear under that name.
Option 2:
Hold down the

Option

key on your keyboard, then click on the speaker icon in your menu bar. You will then see a list of audio output devices that are on your local network - select the A1-MR.

Once you change the audio output to an AirPlay device, all audio coming from your Mac will go through the A1-MR, and not the internal speakers on your Mac.

To change the audio output back to your Mac's internal speakers, you can either Option-click on the speaker icon again and select internal speakers, or go back into System Preferences and change it there.
Once you have set up all of your A1-MRs on your Wi-Fi network:
Open the Audioengine control app. Swipe from right to left in the app to the "Device" screen where your A1-MRs are listed. Determine which group of A1-MRs you want to be your primary, then touch the "+" in the upper right corner. A list of any additional A1-MRs you want to add will appear and you can tap the empty circle to add a check to the bubble, then tap "Done" You can add multiple A1-MRs into that primary A1-MR for whole-home playback.
The A1-MR uses the ES9023 DAC. As the A1-MR uses your home wi-fi network, it is lossless and no compression is needed.
Sending audio to multiple A1-MR units at once will not impact the audio quality.
Any audio source can be used for multiroom playback through your A1-MR(s) when using AirPlay, or when streaming audio via DLNA / UPnP, or using the streaming services integrated into the Audioengine Control App. The A1-MR(s) need only first be configured into groups using the Audioengine Control App.
For music streamed through Audioengine Control App, or from streaming applications built into the Audioengine Control App, the A1-MR streams music directly over your Wi-Fi network. The stream will continue whether your device is taken out of range or turned off altogether.
Airplay, generally speaking, makes a connection between your source device and the A1-MR, through your network. If your device goes out of range of the network, or the application on your source that is playing audio is closed, playback will stop.
The A1-MR doesn't include a YouTube Music integration into the Audioengine Control App, but YouTube Music will work via Airplay on an Apple Device. So you'd be able to stream YouTube Music to the A1-MR from your iPhone, iPad, or Mac computer, no problem.
Both Audioengine Bluetooth and Wi-Fi-based solutions are capable of delivering very high quality audio! Bluetooth is an extremely convenient way to quickly pair to a speaker for easy wireless playback. Wi-Fi solutions are great for multi-room setups with custom groupings with different music or simultaneous playback to all which can be easily controlled with the A1-MR app.
The A1-MR doesn't include any MQA specific hardware, but you can still enjoy the benefits of MQA through software decoding with services like TIDAL, where you'll have access to up to 16-bit 44.1kHz high resolution audio.
Does the A1-MR support gapless playback?
Gapless playback works great when streaming to the A1-MR as long as the music app you are using supports gapless playback as well, such as Spotify. You would not need to adjust anything with the A1-MR or within the Audioengine A1-MR app.
Windows 10 supports sharing the media on your computer via DLNA. To set this up, you'll need to:
Click start and search for "media streaming options".

Turn on media streaming.

Name your media library whatever you'd like after turning it on.

From the Audioengine Control app on your Smartphone or tablet, go to My Music-> Home Music Share, and look for your media library name.
From here you can play audio stored on your computer to any A1-MR(s) on your network. Just keep in mind that your computer will need to be powered on.
Qobuz works great with the A1-MR for lossless CD quality streaming! Once you get your A1-MR setup on your network using the Audioengine app, you will be able to send your Qobuz music to the A1-MR through the Qobuz app on your MacBook Pro, the Qobuz app on your devices, or directly through the Audioengine Control app! Qobuz and other lossless capable streaming services are played back at CD quality, with no compression.
If you have grouped the speakers for a multi-room setup in the Audioengine app, only the A1-MR that you grouped the speakers into will show as the available destination. If you wish to send to your other speakers independently, ungroup the A1-MRs in the app by pressing and holding on the speaker in the grouping and dragging down and away from the group.
Press and hold the status button on the front panel until the LED begins flashing (about 4 seconds), and you hear a voice prompt letting you know that the A1-MR has entered setup mode. If you don't hear the voice prompt, double check your audio systems volume, and that the A1-MR is connected to an active input.
Open the Audioengine Control app on your smartphone or tablet, and follow the instructions to complete setup. If you have other A1-MR units that are already configured, you will need to press the + in the top right corner of the screen to continue setup.
Yes. You must be connected to your network for your music to play.
Try playing music directly on your phone, tablet or from your local library using the same network to check your internet connection.
If your internet connection is OK:
Check the connections between A1-MR and your stereo system.

Use the Audioengine Control app to test signal strength.

Restart your source music device and power cycle your A1-MR and stereo.
One of the great benefits to the A1-MR is that you're no longer stuck using one product app. Any music player will work for iOS and MacOS via Airplay, as well as DLNA or UPnP streaming options for Android and Windows.
We considered Airplay 2, and will continue to keep an eye on it for future products or updates. At present though, the A1-MR includes support for only Airplay.
While Airplay 2 allows grouping of Airplay 2 devices in the Apple Home app, to allow streaming audio to multiple rooms at once, we've already built out advanced multi-room grouping features through the Audioengine Connect App. And in our implementation, these features extend not only to Airplay on iOS and MacOS, but can even be used for non-Apple devices which don't support Airplay or Airplay 2.
If the left speaker is in an easy to reach location, you can certainly use the physical knob to set volume. If not though, it's perfectly fine to set the speakers to a good volume and then adjust from your source moving forward. Every setup is different, so some experimentation will be necessary to find your preferred settings.
If you've connected your turntable to your speakers and the volume is low, one of two situations may be happening:
If you have a turntable with a built-in phono preamp, such as the Audio-Technica ATLP120 or the Music Hall USB-1, the output may be in the wrong setting. Double check and make sure the switch is set to "line" instead of "phono." Be careful to keep the volume of your speakers low as it can be quite loud if you had to switch it to "line".
Your turntable could also not include a built-in phono preamp, such as older turntables. If your turntable does not include a built-in preamp, you will need to add an external preamp to bring the signal up to a line level signal. We don't have any recommendations on a particular brand or model preamp to use with this setup.
You can have two sources connected at the same time with no need to flip any switches, simply play audio from the source you wish to hear. Though, if you are using multiple sources you may be able to hear both inputs playing simultaneously.